This Amazing Story Will Make You Believe Our Loved Ones Can Contact Us Beyond The Grave
by Julie Scagell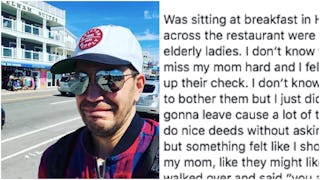 Image via Facebook/Andy Grammer
'She gave me a mom hug I needed,' Andy Grammar wrote
Losing a parent is devastating. There is no replacement, no amount of time that will ever really fill the void a loved one leaves when they are no longer with you. Singer, songwriter, and record producer Andy Grammer lost his mom nine years ago and knows all too well what it feels like to lose a parent, so when he connected with a group of "elderly ladies" it made all the difference.
"Was sitting at breakfast in Hampton Beach and across the restaurant were five SUPER CUTE elderly ladies," Grammer wrote on Facebook. "I don't know why but it made me miss my mom hard and I felt a strong urge to pick up their check." He said he didn't want to bother the women and thought he'd just pay for their tab and leave. But something made him stop and go over to their table.
"I walked over and said 'you are five of the sweetest ladies I've ever seen, I lost my mom awhile back and something about seeing you made me miss her this morning so I'm getting your check,'" he wrote. "The lady on the end popped up with arms wide open and said 'COME HERE, I lost my son and really needed this.' And then she gave me a mom hug I needed and I gave her a son hug she needed."
The internet went wild and shared sweet stories, and Mary Conant, one of Grammer's "sweetest ladies" themselves even chimed in:
Grammer was in New Hampshire for his Hampton Beach Casino Ballroom show when he saw the women eating breakfast at the Sea Ketch Restaurant. Conant, the woman who'd lost her son in 2012 and "immediately felt a spiritual connection" told Seacoast Online that she and "her fellow Hampton Walkers club members" were eating breakfast when Grammer (who they didn't recognize) said he was compelled to buy them breakfast.
Conant said she believes her son and Grammer's mother, Kathy, brought them together.
Conant said the two are now Facebook friends and have plans to stay in touch. This is the best story, ever.