Who Knew Andy Richter Was The Funniest Parent On Twitter?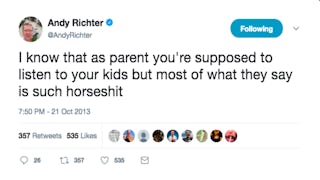 Image via Twitter
Andy Richter is here to make you laugh at parenting
There are a few celebrities whose Twitter feeds remind us that no matter how rich or beautiful you are, parenting is mostly the worst. We appreciate their commitment to truth, honesty, and hilarity, because who needs a laugh more than parents? One of those celebs is Andy Richter, whose tweets about being a dad will make you laugh so hard you'll temporarily forget that you're never going to sleep again.
Richter, who's best known as late show host Conan O' Brien's sidekick, is married to actor and writer Sarah Thyre. The couple has two children: William, 17, and Mercy, 11. We went through Richter's tweets to check out what he had to say on a variety of parenting topics and we were far from disappointed in the results.
On how hard parenting is:
On how to be a good dad:
On other parents:
On having some perspective:
On enjoying your time with your kids:
On bedtime and wake-up time and the lack of sleep between the two:
And, finally, on your dreams for your child's future:
Andy Richter: parenting truth-teller.
(h/t Huffington Post)