Angelina Jolie Reveals Daughters' Health Struggles In Powerful Essay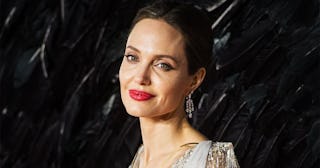 Samir Hussein/Getty
In a poignant essay honoring International Women's Day, Angelina Jolie revealed that two of her daughters have recently undergone multiple surgeries
Over the years, Angelina Jolie has always done her part to empower women. Whether penning emotional essays about her preventative health decisions to have her ovaries and breasts removed, opening up about her sexual harassment experiences in Hollywood, or giving impassioned speeches about gender equality at the podium of the United Nations, she has never shied away from using her platform to promote a female agenda. In honor of International Women's Day she decided to commemorate the special day in a very unique but important way — opening up about her daughters' health issues.
"I have spent the last two months in and out of surgeries with my eldest daughter, and days ago watched her younger sister go under the knife for a hip surgery," the Academy Award-winning actress started her moving essay for Time. While her eldest daughter is Zahara, 15, she didn't specify which of her other two girls endured the hip surgery.
She then went on to explain that she wasn't violating her daughters' privacy by writing about their experiences. Instead, they "encouraged" her to write the essay. "They understand that going through medical challenges and fighting to survive and heal is something to be proud of," she continued.
"I have watched my daughters care for one another. My youngest daughter studied the nurses with her sister, and then assisted the next time. I saw how all my girls so easily stopped everything and put each other first, and felt the joy of being of service to those they love," she wrote.
While her daughters nurtured each other, they also experienced fear.
"I also watched them their face fears with a resolute bravery," she wrote. "We all know that moment when no one else can help us, and all we can do is close our eyes and breathe. When only we can take the next step or breath through the pain, so we steady ourselves and do it."
She made sure to add that their "brothers were there for them, supportive and sweet," however, "on this International Women's Day, writing from the hospital, I find myself focusing on my daughters for a moment, and all that I have learned from them and other young girls I have met around the world."
Jolie points out that while many girls are selfless, putting the needs of others in front of their own, it isn't something that should be assumed or taken advantage of.
"Someone said to me, when they saw my daughters caring for each other, that 'it comes naturally to girls.' I smiled, but then I thought of how often that notion is abused. The little girl is expected to take care of others. The woman she grows up to be will be expected to give, and care for, and sacrifice. Girls are often conditioned to think that they are good only when they serve others, and selfish or wrong if ever they focus on their own needs and desires," she wrote.
She believes it is our responsibility as a society to protect women's rights — in both big and small ways.
"Little girls' softness, their openness and instinct to nurture and help others, must be appreciated and not abused. We must do much more to protect them, in all societies: not only against the extreme ways girls' rights are often violated, but also the more subtle injustices and attitudes that so often go unnoticed or excused."
Her ultimate wish is that we "… value girls. Care for them. And know that the stronger they grow, the healthier they will be and the more they will give back to their family and community."
She completed her essay with a motivating message for women.
"And my message to girls is, fight on, little ladies. Your care for each other will be a large part of your way forward. Hold your nerve. Know your rights. And never let anyone tell you that you are not precious and special and, above all, equal."
Jolie is the mother of Maddox, 18, Pax, 16, Zahara, 15, Shiloh, 13, Vivienne, 11, and Knox, 11.
This article was originally published on