Angelina Files For Divorce From Brad Because Love Is DEAD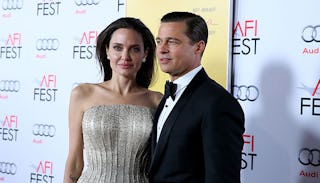 Image via Jonathan Leibson/Getty Images
Angelina Jolie files for divorce from Brad Pitt
Welp, life is a series of disappointments that ultimately ends in death. It's never been clearer than today. TMZ is reporting that Angelina Jolie just filed for divorce from Brad Pitt. If you're wondering when TMZ became a reliable source of information — it probably started when they were right about Prince's death. But we digress.
Back to Brad, Angelina, and the death of love. According to TMZ: "Jolie filed legal docs Monday citing irreconcilable differences. She's asking for physical custody of the couple's 6 children. She is asking the judge to give Pitt visitation. It's significant …she does not want Brad to have joint physical custody … only joint legal custody."
According to TMZ's "sources," Jolie doesn't like the way Pitt parents the children, which is probably a load of crap. Time will tell.
The couple tied the knot in August 2014, but have been together for well over a decade. They have six children together – Maddox, 15, Pax, 12, Zahara, 11, Shiloh, 10, and twins Knox and Vivienne, 8.
What's that you say? Angelina was a home-wrecker who destroyed everyone's favorite couple of the early 2000's? Maybe now you can finally give that up. It takes two to tango, and Brad and Angelina tangoed beautifully — creating a huge, globe-trotting family.
Page Six is reporting that Angelina hired a private investigator to snoop on Brad on his current movie set. "She hired a private eye because she felt that he was fooling around with her on the set, and it turns out, he was. And that was the final straw," the source said. Page Six reports, "Pitt had been rumored to have been cozying up to his 'Allied' co-star, Marion Cotillard, in London for months."
I know what you're thinking! Karma. But, if that's the case, what the hell is his karma? Let's not jump on Angelina right now.
Do soul mates exist? Is marriage an archaic institution that only worked when women couldn't leave? Is there such thing as one true love? Now we all have to spend our Tuesday contemplating life's great mysteries.
RIP, Brangelina.
This article was originally published on