Gwyneth Paltrow And Angelina Jolie Come Forward With Weinstein Harassment Stories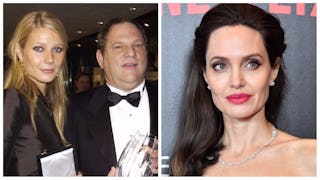 Image via Getty Staff/Dia Dupasipil/
Gwyneth Paltrow and Angelina Jolie come forward with Harvey Weinstein harassment stories
Last week, Harvey Weinstein's long stretch of abuses in Hollywood came to an end after a New York Times article blew his cover wide open. The article detailed decades of abuse and sexual harassment perpetrated by Weinstein, and has since inspired thousands of women to come forward with their own stories of workplace harassment.
Now, more actresses are speaking out. Yesterday Angelina Jolie and Gwyneth Paltrow came forward with their own tales of harassment from the movie mogul.
When Gwyneth Paltrow was 22 years old, Weinstein hired her to play the lead in the Jane Austen adaptation, "Emma." She spoke to the New York Times, and detailed what is now a very familiar narrative of harassment; young actress is summoned to hotel room where Weinstein wields his power to manipulate, abuse, harass — and assault. She told the Times Weinstein called her to his hotel room for a "work meeting," that ended in Weinstein "placing his hands on her and suggesting they head to the bedroom for massages."
"I was a kid, I was signed up, I was petrified," she said in the interview. She refused his advances. Brad Pitt was her boyfriend at the time, and she told him the whole story — a story he confirmed for the Times. Pitt confronted Weinstein about his advances, and — just like a lecherous coward would — Weinstein then went to Paltrow to warn her not to tell anyone else. "I thought he was going to fire me," she said.
The Times confirms that Rosanna Arquette had a similar story of harassment, as did French actress Judith Godrèche. One can only imagine the long line of actresses who have been in a similar situation with the man. One of those actresses is Angelina Jolie, who detailed her experience with Weinstein in an email to the NYT.
"I had a bad experience with Harvey Weinstein in my youth, and as a result, chose never to work with him again and warn others when they did," she wrote. "This behavior towards women in any field, any country is unacceptable."
And many of the allegations don't just end with being summoned for a "massage" — although that is bad enough as it is. The New Yorker told the stories of several Weinstein accusers — some of which who insist they were raped by the man. "Three women—among them Argento and a former aspiring actress named Lucia Evans—told me that Weinstein raped them, allegations that include Weinstein forcibly performing or receiving oral sex and forcing vaginal sex," writes Ronan Farrow for the New Yorker. "Four women said that they experienced unwanted touching that could be classified as an assault."
And in the midst of all of these horrifying accusations, is a familiar chorus. "Why didn't anyone say anything?" There are plenty of reasons victims do not speak out — especially when someone as powerful as Weinstein is involved. The New Yorker reports Weinstein and his associates "used nondisclosure agreements, monetary payoffs, and legal threats to suppress these myriad stories." And if you stand in judgment of any of the women who said nothing — you probably have never been in a position where your livelihood or career was threatened. Also — can we stop holding women accountable for the abusive actions of men? We can never win. It's even our fault when it's absolutely not our fault — and it's exhausting.
Here is an audio recording that is very difficult to listen to — but needs to be heard to understand the type of behavior these women were subjected to. Warning — it is very triggering if you have ever experienced sexual assault, manipulation, or coercion.
"We're at a point in time when women need to send a clear message that this is over," Paltrow said, regarding the behavior of men like Weinstein. "This way of treating women ends now."
And even more important, is a point made by the actress Amber Tamblyn on Twitter perfectly:
"So now we must say the next thing that needs to be said. It's time to press charges against Harvey Weinstein."