Angelina Jolie Is Every Mom Crying Dropping Their Kid Off At College
by Christina Marfice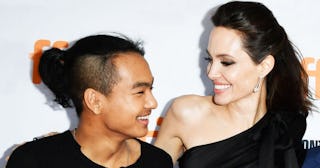 George Pimentel/WireImage/Getty
Angelina Jolie just dropped off her oldest son at college, and every mom will relate to her struggle to keep it together
No newly minted adult wants to be the person whose mom is crying while she drops them off at college. Yet, it's a pretty universal thing for parents to get a little misty-eyed when their kids take that first big step into adulthood. And I do mean universal — even A-list celebrities aren't immune. This video of Angelina Jolie near tears while leaving her son off at school is heartstring-tugging proof.
Jolie just dropped off her oldest son, Maddox, who's about to start his first year at Yonsei University in South Korea. While dropping him off, she met a bunch of the people he'll be living and studying with. They naturally took the opportunity to film their conversation, because they were all standing in a dorm hallway with Angelina freaking Jolie.
In the video, one student asks Jolie how long she's staying in South Korea, and her response will have moms everywhere nodding their heads and saying, "Yep, I know that feeling."
https://www.instagram.com/p/B1bcHsVlaZc/
"I leave today; today's the day I drop him off," Jolie says. "I'm trying not to cry."
BRB while I text my mom real quick, because this is so sweet. While Maddox blushes a little and stays in the background of the shot, his mom is there telling all his friends how emotional she is about leaving him at school alone for the first time. He's the embarrassed teen, she's the emotional mom. It's striking how normal it all is, even though this is one of the most famous actresses on the planet. It really is proof that every mom is exactly the same when it comes time for her babies to leave the nest. It's not easy for any of us.
https://www.instagram.com/p/B1aOq4DlNYp/?utm_source=ig_embed
Luckily, Jolie got some quality time with Maddox before they made the trip to South Korea. Earlier this month, the two headed to Cleveland to celebrate Maddox's 18th birthday by meeting up with First They Killed My Father author Loung Ung and see some of the city's refugee resettlement efforts. Maddox and Jolie have both been longtime, passionate supporters of refugee programs, and they produced the film adaptation of Ung's book together for Netflix.
Maddox will reportedly be studying biochemistry, and we have a feeling he'll do just fine. He seems less affected by this than his mom, at least, but isn't that true for all college kids? And anyway, Jolie will be busy enough at home with her five other kids — 14-year-old Zahara, 13-year-olds Shiloh and Pax, and 11-year-olds Vivienne and Knox — that letting Maddox spread his wings should be no problem at all.