Angelina Jolie on Why She Had Her Ovaries Removed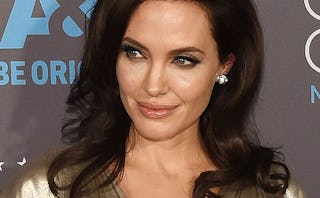 The mutation in the BRCA1 gene means that her risk of breast cancer was at 87 percent and her risk of ovarian cancer was at 50 percent. The two surgeries have eliminated her chances of developing the two diseases that killed her mother, grandmother, and aunt, but are not without significant downsides. Not only has she endured two difficult surgeries and reconstruction on her breasts, but the removal of her ovaries means that she'll go through early menopause, 10-12 years sooner than she would have otherwise.
It's a tradeoff that many women with a positive test for the BRCA gene are willing to make, though Jolie notes that other women are choosing other routes, like birth control pills and frequent checks-ups.
Jolie, a special envoy of the United Nations High Commissioner for Refugees, is now a spokeswoman for women's health: "I feel feminine, and grounded in the choices I am making for myself and my family. I know my children will never have to say, 'Mom died of ovarian cancer.'"
This article was originally published on