Angelina Jolie's Kids Slayed Again At Another 'Eternals' Premiere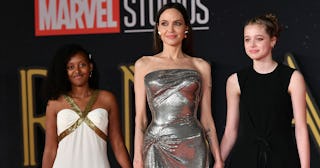 Maria Laura Antonelli/AGF/Shutterstock
Angelina Jolie stunned on the Eternals red carpet in Rome — even though she risked being upstaged by the two of her kids who accompanied her to the premiere
Angelina Jolie is all about family nights out lately. Just days after she gathered up five of her six kids to attend the Eternals premiere with her in Los Angeles, she once again invited a few of the kids to hit the red carpet by her side. This time, it was in Rome, where Eternals was having its international premiere.
This time, only 16-year-old Zahara and 15-year-old Shiloh came along to walk the red carpet with their famous mom at the Rome Film Fest. The trio were all smiles, breaking into laughter at different points as they were photographed, and you could just see how much love there is between them as they walked the red carpet holding hands.
Jolie stunned in a custom Versace gown, which is pretty much to be expected. But did she plan on being upstaged by her own children? Because Zahara looked incredible in a vintage white gown from Catwalk Designer Vintage in Los Angeles, and Shiloh perfectly paired her understated black Versace dress with a pair of yellow-and-black sneakers that honestly made the whole look.
Is it just me, or is it almost not fair how incredibly stunning the entire Jolie family is?
Jolie has been busy hitting red carpets to promote the latest Marvel film, in which she plays Thena, a warrior with extreme strength, speed, and stamina. At the movie's premiere in LA last week, some of her kids wore upcycled versions of her old red carpet gowns, and to say they looked incredible would be an understatement. Zahara, in particular, stole the show in her mom's 2014 Oscars gown, and we're not going to talk about who wore it better, because how would someone even choose?
It's pretty unusual for Jolie's kids, whom she shares with ex Brad Pitt, to make public appearances like these ones. But as they're getting older, their famous mom seems to be making more and more allowances for them to experience the A-list life she lives, and we're not made about it, since it means getting to see them rock the red carpets just as hard as their mom does. Will we keep seeing the younger members of the Jolie clan at more premieres? We sure hope so.