TSA Employee Saves The Day For A Mom And Her Son Who Has Autism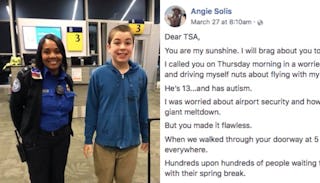 Image via Facebook/Angie Solis
If you're traveling with someone with special needs, TSA specialists can help
Traveling with children leaves most parents addled with anxiety — especially if you're a mom in a crowded airport, traveling with a child who has autism. Thankfully, the Transportation Security Administration (TSA) has a pretty stellar employee who was ready to swoop in and save the day for her.
Angie Solis, a mother of two, was flying with her 13-year-old son Zion for the first time since he was an infant. Solis was worried that Zion, who has autism, would feel overwhelmed and anxious being in the crowded airport — something we can all relate to, but is particularly nerve-wracking for moms like Solis.
"Dear TSA: You are my sunshine. I will brag about you to anyone who will listen," Solis shared on her Facebook page, in a post that has since gone viral. "I called you on Thursday morning in a worried frenzy. I was overly anxious and driving myself nuts about flying with my son for the first time. He's 13…and has autism."
She says she was worried about airport security, and thought perhaps his anxiety could lead to a "giant meltdown." Airports are hectic, stressful places to begin with — the fact that it's now peak spring travel season doesn't help. "When we walked through your doorway at 5 a.m., there were people everywhere," she writes. "Hundreds upon hundreds of people waiting to pass security…and get on with their spring break. Fear struck me. Hard."
Luckily, there were no anxiety attacks to be had for Solis and Zion — all thanks to one amazing TSA employee.
"Before I could even take another calming breath…Alesea appeared," Solis says. "Your passenger support specialist. Sweet, precious Alesea. Sent to us from TSA heaven." Solis writes that Alesea spoke directly to Zion and treated him with respect and warmth. She helped them through security by lifting the divider, motioning them right on through, and escorting them to the front of the line.
"We went through a gentle security check where no one put their hands on us or even said much. We didn't even have to remove our shoes."
People with autism can experience heightened sensitivity in large, noisy, crowded spaces and when being touched. It's no wonder Solis had trepidation about going through the intense airport rigmarole with her son. While travelers tend to give the TSA a lot of shit for their seemingly endless rules and procedures, it's important to remember the employees are just doing their job.
Solis ended her post with heartfelt gratitude. "Thank you TSA, from the bottom of my heart for making this experience stress-free. And for caring enough to understand that some people just process differently and need extra TLC."
If you're traveling with a person with special needs, you can call TSA Cares at 855-787-2227 (Federal Relay: 711) three days before your scheduled departure and arrange for a stress-free security check like the one Solis and her son received.