Anheuser-Busch Halts Beer Production To Send Water To Harvey Victims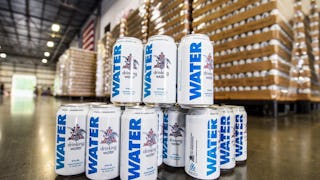 Image via Anheuser-Busch
The beer giant is no stranger to helping disaster victims
Anheuser-Busch, the brewing giant that brings us beers like Stella Artois and Michelob Ultra, is stepping up in a big way to help the victims of Hurricane Harvey. Harvey, a category four hurricane, swept in over the weekend leaving substantial parts of Houston and southeast Texas underwater. Millions of residents have been displaced with nothing more than the clothes on their backs, many staying in shelters in stadiums and churches.
Monday morning Anheuser-Busch in Cartersville, Georgia, brewery halted beer production and turned their attention to water. The beer-maker's emergency water program has already sent over 155,000 cans of drinking water to Baton Rouge, Louisiana, and Arlington, Texas, to help those impacted by the storm, Anheuser-Busch reported in a press release.
FEMA Administrator Brock Long estimated yesterday that 30,000 people may need shelter, NPR reports. With new areas being evacuated every day, the situation could still get worse before it gets better. All those people will need food and water for the duration of their stay, and there is no way to know just how long that may be.
Anheuser-Busch, the 30,000 employee company that brews more than 100 different beers in the U.S., is no stranger to helping during times of need. According to their website, they "strive to be an integral part of our communities and believe it's our duty to give back to the communities where we live and work and play. By joining forces and harnessing the power of communities, we can create positive change and also help build a stronger future."
They have proven over and over there is action behind those words. Since 1988 the company has donated an excess of 76 million cans of clean drinking water, according to their press release.
Cartersville, one of 12 breweries in the U.S., serves Georgia, Alabama, Florida, Tennessee and South Carolina. It is there beer production shuts down twice a year to produce cans of emergency drinking water. Since Harvey hit, Cartersville has sent the approximately 250 trucks per day they usually use for beer shipments — with water. They will continue canning and sending water as long as it is needed.
The beer giant partners with the American Red Cross, as well as the company's network of independent distributors, to get the water to the locations that need it most. "Putting our production and logistics strengths to work by providing clean, safe drinking water is the best way for us to help our neighbors right now," Anheuser-Busch stated on their website.
Cheers to Anheuser-Busch and companies like them for continuing to step up and step in when it is needed most.
This article was originally published on