Animal Cruelty Becomes A Federal Felony When Bill Is Signed Into Law Today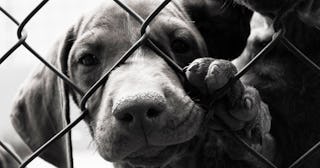 stevedangers/Getty
The Preventing Animal Cruelty and Torture (PACT) Act will make animal cruelty a felony crime, punishable by up to seven years imprisonment
It's hard to believe that in 2019 most acts of animal cruelty aren't a federal crime. Up until this point, the mistreatment of animals has mostly been handled at the state level. In fact, The Animal Welfare Act of 1966 is virtually the only federal law regarding the treatment of animals, and it isn't exactly extensive. However, all of that is about to change. In a major win for animal rights, animal cruelty is about to become a federal felony. The Preventing Animal Cruelty and Torture (PACT) Act, which criminalizes certain acts of animal cruelty, will go into effect as soon as President Trump signs the bill this afternoon.
"Passing this legislation is a major victory in the effort to stop animal cruelty and make our communities safer," Sen. Pat Toomey, R-Pa., previously said about the bill. "Evidence shows that the deranged individuals who harm animals often move on to committing acts of violence against people. It is appropriate that the federal government have strong animal cruelty laws and penalties."
The bill was introduced in the House by Rep. Ted Deutch, D-Fla., and Rep. Vern Buchanan, R-Fla., and was passed unanimously in the Senate on Nov. 5 following approval in the House in October. It expands on the 2010 Animal Crush Video Prohibition Act, which made creating and distributing "animal crushing" videos illegal.
The current PACT Act includes many acts that were not part of the 2010 bill. This includes making it a federal crime for "any person to intentionally engage in animal crushing if the animals or animal crushing is in, substantially affects, or uses a means or facility of, interstate or foreign commerce."
It also will outlaw purposeful burning, drowning, suffocation, impalement or other violence causing "serious bodily injury" to animals. If found in violation of the act, individuals could face a fine and up to seven years' imprisonment.
"This bill sends a clear message that our society does not accept cruelty against animals. We've received support from so many Americans from across the country and across the political spectrum," Deutch, D-FL previously said in a statement. "I'm deeply thankful for all of the advocates who helped us pass this bill, and I look forward to the Senate's swift passage and the President's signature." Buchanan added, "The torture of innocent animals is abhorrent and should be punished to the fullest extent of the law."
The Humane Society Legislative Fund is totally in support of the new legislature. "We've made the case for this measure for many years, and view it as one of the largest victories for animals in a long time," Kitty Block, President and CEO of the Humane Society of the United States said.