Animal Planet Will Air 94 Hours Of Puppies And Kitties Because We Need It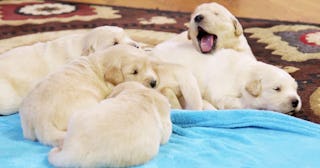 Animal Planet
Animal Planet to air Too Cute marathon until Saturday night
As the world tries to make sense of the novel coronavirus panic and citizens are asked to practice social distancing and stay inside, it's become harder and harder to well, stay sane. If you've maxed out of HGTV shows and have seen everything on Netflix, Animal Planet has a solution. In an attempt to cleanse our eyeballs with cuteness, Animal Planet is airing a Too Cute marathon from now until Saturday night.
Too Cute is better than whatever animal clip on Reddit is trending today, because Too Cute is documentary-style footage of puppies and kittens that follows a handful of baby animals over the first few months of their lives. In one episode, they follow a household with 12 golden-doodle puppies. If ASMR and meditation apps aren't getting you through coronavirus, Too Cute will.
"Bring a little brightness into your week with a 4-day long #toocutemarathon, beginning today at 12 noon ET! There's something for every member of the family," the channel wrote on Instagram.
Grab your TV remote and check the schedule for the Animal Planet channel because from now until Saturday, Mar. 22 at 8 p.m. ET/ PT, it'll look just like this.
Other networks are jumping in to do their part and entertain all our house-bound souls.
Hallmark just brought back its Christmas marathon, so starting tomorrow (Friday) at noon and continuing through Sunday evening at 6 p.m., the network will air 27 of its famous Christmas movies, because if there's ever a time to zone out and watch two nice people fall in love in a small winter town, it's now. The marathon is appropriately named "We Need A Little Christmas."
If Hallmark movies aren't your thing, ESPN will air seven-hours of Tom Brady's championship Patriot games — including nine seminal games and condensed versions of all six Brady Super Bowl victories — on Sunday March 22.
Social distancing can be boring and scary, but at least there's a ton of stuff to watch on TV.