Ann Curry Says She Reported Matt Lauer Years Ago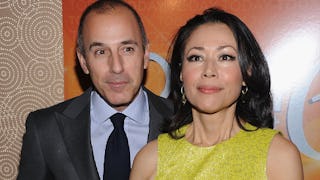 Image via Getty/Dimitrios Kambouris
Ann Curry says she reported Matt Lauer for sexual harassment all the way back in 2012
It turns out that NBC News allegedly knew about Matt Lauer's sexual harassment problem way back in 2012. Ann Curry told The Washington Post that she reported the news anchor after a female colleague confided in her about his inappropriate behavior. Not a single thing was done to stop it.
After Lauer was fired for a myriad of horrifically inappropriate sexual misconduct issues, NBC News Chairman Andy Lack told staff members that they had never received a complaint about the news anchor up until then. Former NBC News journalist Ann Curry has a different story. She said she reported Lauer to two members of NBC's management team, after a female colleague said she was "sexually harassed physically" by the news anchor.
"A woman approached me and asked me tearfully if I could help her," Curry told The Washington Post. "She was afraid of losing her job. . . . I believed her." She added that she told management that they had a "problem" and needed to keep an eye on how Lauer "deals with women." According to NBC, there is no record of her complaint on file.
Lauer was later accused of exposing himself to a female colleague, giving another female colleague a sex toy for a present along with an inappropriate note, and initiating sex with a co-worker in his office. He only half-accepted the blame.
"I fully acknowledge that I acted inappropriately as a husband, father and principal at NBC," Lauer said in a statement. "However I want to make it perfectly clear that any allegations or reports of coercive, aggressive or abusive actions on my part, at any time, are absolutely false."
Lauer isn't the only problem at NBC. Curry, who worked at the network's "Today" show for 15 years, said that there was a "pervasive verbal sexual harassment" issue during her time there. Former NBC anchor Soledad O'Brien backed her claim up.
"I don't think that people who were victims would feel particularly supported by going to someone and asking for help, whether that person was in HR or that person was a colleague," she told the Post.
Recent news that longtime NBC anchor Tom Brokaw allegedly sexually harassed two of his female colleagues only adds fuel to all this fire. One former staffer claimed that Brokaw tried kissing her twice. Another said he placed her hands on his chest and invited her to his office, with the implication of more than just talking. Brokaw has denied these accusations.
Clearly, something is going on at NBC News. Hopefully after years of apparent inaction, management is taking all the steps necessary to create a safe working environment for everyone.
This article was originally published on