Anna Kendrick Gives Nurses A Heartfelt Shout Out After Hospitalization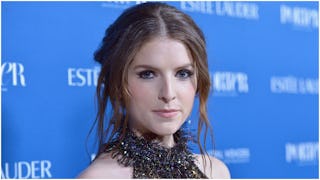 Image via Getty/Charley Gallay
Anna Kendrick shared some sweet words about the nurses and doctors who helped her through kidney stone removal
Kidney stones are an awful, awful ordeal (if you want proof, just watch this clip from Friends). Anna Kendrick had her first experience with kidney stones and sent out some kind words to the hospital staff, thanking them for helping her during such a painful, scary time. She also offered an important reminder about paying attention to pains in your body and not just shrugging them off as nothing.
First up – a quick primer on kidney stones. They're hard deposits made out of minerals and salts and they form on the inner lining of the kidneys. Symptoms include blood in urine, throwing up, and fever. Also, the removal process can be very, very painful. Kendrick took to Twitter to thank the hospital staff who helped her through the whole difficult experience.
"I need to give a shout out to the Atlanta doctors and nurses who helped me through my first experience with kidney stones when I was at my most vulnerable and terrified," she wrote. "Especially the truly wonderful ladies: Renee, Sandra, Muriel, Beverly, Ashley, Nina, Callie."
She also wanted to thank a young woman whose name started with an "L" but she couldn't quite remember because it was right before she was given the "heavy shit" that put her under. "You laughed at my tired ass 'If I die, clear my search history' joke and I appreciate that," Kendrick wrote.
The actress added that she was initially concerned the pain she was experiencing would wind up being "nothing serious" or something that she could have just pushed through. "I'm so grateful to these women," Kendrick concluded. "Even if we only interacted for a moment, know that the attention and kindness you give your patients is so appreciated."
https://twitter.com/jetpack/status/1091396555871944704
The Twitterverse came together to lament how awful kidney stones are and how happy they are that Kendrick is feeling better. Also, some noted that they also worried that their pain was "nothing serious" before getting an official diagnosis.
It's actually not all that surprising that women underestimate the pain they're experiencing. A recent Yale University study found that adults were less likely to believe that a child was in pain if that child was a girl. The study's authors concluded that "explicit gender stereotypes — for example, that boys are more stoic or girls are more emotive might be at play."
"We really hope that these findings will lead to further investigation into the potential role of biases in pain assessment and health care more generally," said Joshua Monrad, one of the study's authors, said. "…Any biases in judgments about pain would be hugely important because they can exacerbate inequitable health care provision."
Yikes. A big thank you to Anna Kendrick for sharing her story and giving us all an important reminder about gender and pain biases.