Anne Hathaway Gets Ahead Of Paparazzi By Instagramming Her Own Pregnancy Bikini Pic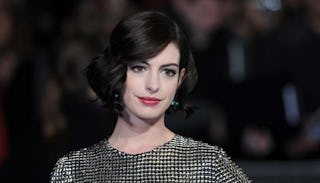 LONDON, ENGLAND - OCTOBER 29: Anne Hathaway attends the European premiere of "Interstellar" at Odeon Leicester Square on October 29, 2014 in London, England. (Photo by Stuart C. Wilson/Getty Images)
Anne Hathaway posts bikini pic on Instagram to beat paparazzi to the punch
What do you do when you're pregnant, famous, on a beach in a bikini, and see some paparazzi looming to catch your "bikini baby bump?" Beat them to the punch like Anne Hathaway did this weekend. The 33-year-old actress swiftly took her own bikini pic after she spotted some photographers trying to capture her image yesterday. Pretty sure the value of those snaps has gone down now.
Along with the photo, Anne writes:
"So, posting a bikini pic is a little out of character for me, but just now while I was at the beach I noticed I was being photographed," the actress writes on her Instagram post. "I figure if this kind of photo is going to be out in the world it should at least be an image that makes me happy (and be one that was taken with my consent and with a filter)."
The image was posted roughly ten hours ago and has already garnered 165k likes, because good for her! Can you imagine having someone follow you around with a camera, peering out of bushes or posting up with a telephoto lens to capture your pregnant belly? The paparazzi are gross. And Hathaway knows just how much these "photographers" can get for a picture of an A-list star showing her pregnant belly in a bikini. That photographer's day is ruined.
This will be the first child for Hathaway and her husband, Adam Shulman. The couple has done a great job keeping the pregnancy under wraps — the first report of it only surfaced in November. Congratulations, Anne. So much for the myth of the "pregnancy brain." You're sharp as ever.
This article was originally published on