Anne Hathaway Calls Out White Privilege In Wake Of Nia Wilson's Death
by Christina Marfice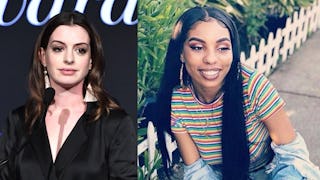 Image via Dimitrios Kambouris/Getty Images / Anne Hathaway/Instagram
Anne Hathaway is calling out white privilege in the wake of horrific violence against another person of color
After an 18-year-old woman was brutally stabbed to death on a California subway platform, actress Anne Hathaway is using her voice to call out the privilege that allows white people to live without constant fear of that kind of violence. And it is eye-opening.
Black teenager Nia Wilson died Sunday after John Cowell, a 27-year-old white man, allegedly pulled out a knife and "very rapidly" stabbed her. Wilson's sister was injured in the attack, but is reportedly now in stable condition. BART Police Chief Carlos Roja called this "probably one of the most vicious" attacks he's seen in 30 years as a police officer.
In an Instagram post, Hathaway called attention to Wilson's death, and also the fact that people of color have to live in a world where this kind of violence against them is heartbreakingly common.
"The murder of Nia Wilson – may she rest in the power and peace she was denied here – is unspeakable AND MUST NOT be met with silence," Hathaway wrote alongside a photo of Wilson. "She is not a hash tag; she was a black woman and she was murdered in cold blood by a white man."
Hathaway continued, "White people- including me, including you- must take into the marrow of our privileged bones the truth that ALL black people fear for their lives DAILY in America and have done so for GENERATIONS. White people DO NOT have equivalence for this fear of violence.
"Given those givens, we must ask our (white)selves- how "decent" are we really? Not in our intent, but in our actions? In our lack of action?"
She ended her post, "Peace and prayers and JUSTICE for Nia and the Wilson family."
Despite the horrific nature of Wilson's death, her story hasn't been widely shared. All too often, violence against people of color is ignored by white people who would rather not confront the uncomfortable realities of racial violence. This is definitely one of those times, and people are praising Hathaway for lending her platform to the cause.
Cowell was arrested Monday and faces charges for assault with a deadly weapon, first-degree murder and parole violation. Police have not said whether the attack was racially motivated, but did say Cowell has an extensive criminal history.