Anne Hathaway Calls Out And Rejects Her Privilege During Powerful Speech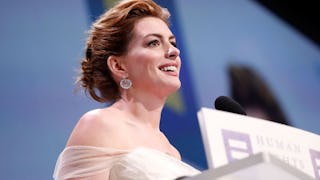 Images via Paul Morigi/Getty Images
Anne Hathaway spoke out about her white, straight privilege
We've long known Anne Hathaway is an ally to marginalized communities, but she reminded everyone when she called out her white, straight privilege during an acceptance speech. Hathaway spoke out at the Human Rights Campaign's annual gala when she was awarded the National Ally For Equality.
Sure, the Oscar-winning actress is famous for her theatrical skills, but she's also a fierce advocate of women and the LGBTQ+ community. She's used her fame to speak out about body shaming, parental leave, and white privilege.
"Through her incredible talent and bold activism, Anne Hathaway uses her global platform to stand up for the LGBTQ community," HRC President Chad Griffin shared. "From speaking out against discriminatory legislation targeting the LGBTQ community to her leadership on workplace equality for women, Anne is making a real difference in the lives of countless people around the globe." Hathaway opened her speech with a special message to a 10-year-old transgender girl named Ella, who had written her a letter thanking her for being an ally. "Ella sweetie, I want to make something absolutely clear to you, it takes zero courage to love you," she said.
But an essential part of being an ally is recognizing your own privilege and working to dismantle it, which is what Hathaway did during her acceptance speech. "It is important to acknowledge, with the exception of [not] being a cisgender male, everything about how I was born has put me at the current center of a damaging and widely accepted myth," she said. "That myth is that gayness orbits around straightness, transgender orbits around cisgender, and that all races orbit around whiteness," she added.
Hathaway then explained how this myth is used to oppress those who are different while also keeping money and power in the hands of a select few. She spoke about how the relationships she has built within the LGBTQ+ community helped her reject this myth. "I appreciate this community because together we are not going to just question this myth, we are going to destroy it," she explained. "You gotta roll up your sleeves and get to work every day until everyone gets it," she says.
"Now let's tear this world apart and build a better one." Amen, Anne.
Watch her full speech below.