Annie Murphy Talks Severe Depression After 'Schitt's Creek' Ended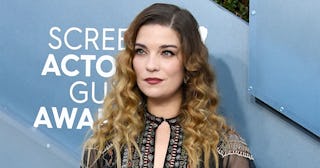 Jon Kopaloff/Getty
Annie Murphy from Schitt's Creek opens up about taking anti-depressants at the height of the pandemic
Schitt's Creek star Annie Murphy's Alexis Rose is a shiny, bright spot of light in the lives of Schitt's Creek fans, but when the iconic Canadian sitcom went off the air and the pandemic put a hold on Murphy's new acting gig on Kevin Can Fuck Himself, the actress went into a deep depression, so deep she said she was "unable to get up" off the floor.
Murphy, 34, told The Zoe Report, "I think I have a big dose of my dad's Irish melancholy," describing how depressed she was when Schitt's Creek ended and the pandemic hit. To be honest, when Schitt's Creek ended and the pandemic hit, we were all pretty messed up over it, but Murphy said she went to a therapist who diagnosed her with depression and she went on anti-depressant meds to help, which she now raves about.
"My mom was like, 'You're crying 12 times a day hysterically, to the point where your teeth are chattering. That's not normal,'" Murphy, who moved back in with her parents in Canada during the pandemic, said of that time.
"I was like, 'Damn it, I'm depressed,'" she said after being diagnosed.
"A lot of people are going to think that I sound like I'm playing a tiny violin for myself," she said. "'Oh, you're rich and famous. Why the fuck are you sad? You have nothing to be sad about. But I'm not going to post photos of me covered in my own snot, lying on the floor, unable to get up. I don't want people to have to see that."
Though she's found the silver lining, saying she probably couldn't have gone straight into working on Kevin Can Fuck Himself in her mental state.
"As excited as I was to get this huge part, I do not think if I had gone to work when I was supposed to go to work, I would have been able to do my job," she said.
Now she's in therapy and doing a lot better. "I do not cry every single day on the floor 12 times… I am able to focus on other things in my life," she said, while adding that "now, honestly, if a friend's like, 'I'm having a really hard time,' I'm like, 'Get on drugs. Get on drugs!' You don't have to be on drugs for the whole time, but they truly, truly saved my life in the sense that I was not a functional human being and I was able to be a functional human being."
Shoutout to Queen Annie Murphy for sharing that even in what we might consider a joyful time (like coming off a beloved sitcom), it is normal and okay to be depressed and to ask for help and to get whatever meds you may need.