An Anonymous Man Spent $50,000 On Generators To Send To The Bahamas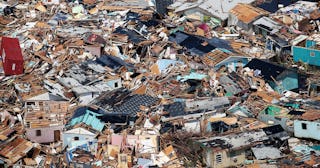 Scott Olson/Getty
Let this Florida man inspire you to do something to help the Bahamas today
A man in Florida went to his local Costco and when he left, it was with 100 generators, food, coffee, and other supplies, all of which he plans to send to the Bahamas in the wake of Hurricane Dorian. The generators, at $450 each, made up the bulk of his purchase, which amounted to $49,285.70.
The man has requested to stay anonymous, because he wants people to focus not on him, but on the Bahamas and how they can help the islands. What we do know is that he's a farmer from the Jacksonville area, and he's working with a close friend from the islands to ensure that everything he bought makes it to where it's needed.
"About 100 generators and a truck load of food and chainsaws are all going over by boat on Thursday to Marsh Harbour in The Bahamas. It's terrible and I'm sure you've seen the photos," the man told CNN. "It's important that we help each other out. It's better than just sitting there. You see a need and you fill it."
The story about the man's enormously generous act only got out because another customer overheard some conversation about it. He shared a photo on Facebook, but we won't share that to respect the man's request for anonymity.
According to CNN, the farmer is working with Errol Thurston, a boat captain whom he met over a decade ago in the Bahamas. The pair have been good friends ever since, and Thurston will pick up all the supplies the man bought and take them by boat to Abaco Island, one of the places hardest hit by Dorian. He's also working with a network of other boat captains and trying to book commercial space to help transport supplies even faster.
"We are trying to book a slot on a container ship that regularly services the Abacos and Grand Bahamas," Thurston told CNN. "The guys are doing everything in their power to get us in a slot there. They know the desperation the people really need these items."
Hurricane Dorian crossed the Bahamas earlier this week as a Category 5 storm, and while we still don't know the full extent of the damage, we do know that it was absolutely devastating. Images of the islands so far are nothing short of heartbreaking.
The current death toll of 30 is expected to soar in the coming weeks, and thousands of people's homes were destroyed. Corporations, including several major cruise lines that have ports in the Bahamas, have pledged millions of dollars to aid relief and rebuilding, but it will likely take much more than that to restore the islands in Dorian's wake.