10 Things Never to Say to a Mom Expecting Another Boy
by Kiera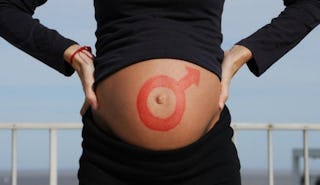 If there's anything that makes me want to drop out of society completely, it's becoming pregnant with my third child… and finding out I'm expecting another boy.
Don't get me wrong, I'm thrilled to be having another little guy. Although in all honesty, I was shocked that nature's supposed 50/50 coin toss had yet again dealt us the same hand, I quickly fell in love with the idea of being a mom to three boys. In fact, I feel it's a great privilege to be the one responsible for shaping good men. (Lord knows, the world needs more of them.) The problem comes when I share my news with other people. For whatever reason, the mention of a third boy is enough to evoke people's deepest sympathies, followed by an onslaught of verbal diarrhea which always seems to imply that having children of the same gender just plain old sucks.
Yeah, yeah, I know, I can only change myself. If I put myself in charge of retorting to every single annoying comment, I'd sink myself so deep into the bowels of bitterness and resentment that I'm afraid I'd never manage to climb out. I'd be that 80-year-old woman with whiskers they'd call "Old Man Kiera" who'd still be trying to convince people of how friggin' great it is to have the same last name as ALL of her grandchildren. (And by the way, GET THE HELL OFF MY LAWN!)
So instead of that, I'll just have one good vent and be done with it. Here's hoping it'll make other same-gendered moms feel less-tortured, and maybe even (whoops!) find it's way onto the computer screens of a few of those darn Debby Downers.
1. "I hope it's a girl!" It's truly shocking how many times I still get this one, even after telling someone it's another boy. They'll respond by asking, through sad, squinty eyes, if I'm really sure. I'll tell them "yes," and they'll either move on to any of the following comments, or gently remind me that ultrasounds aren't 100% accurate.
2. "Were you trying for a girl?" It happened most recently in a restaurant of all places, where my husband and I were out with a group of acquaintances. One of the ladies turned to me and brightly posed the question, as if she were simply asking if I was enjoying my chicken penne.
I stammered briefly, before muttering something of the fact that we weren't actually trying per se. Then, a pause… so long and awkward that my cheeks burned red hot with the feeling of utter violation, as I imagined everyone around us having a sudden mental picture of my hubby and I, you know, "trying."
The conversation quickly moved on, but I couldn't help but wonder when it became appropriate to ask someone about their sex life? As if I was really going to launch in about the act of "trying"? ("Actually yes! They say that shallow penetration with no orgasm works well for getting a girl. *Turn to husband* That wasn't hard, was it honey?" *wink*)
3. "Were you disappointed when you found out it wasn't a girl?" Um, are you trying to make me burst into tears? Because quite honestly, I'm not sure what else you could be angling for here. It's pretty clear that you think I should be disappointed though. I mean after two perfectly healthy little miracles, who could even fathom wanting yet another one, right??
4. "At least you won't have to (insert pretty much anything here.)" "At least you won't have to (buy new clothes/deal with the teenage mood swings/move to the country and purchase a shotgun)" – it doesn't really matter what they say here. The problem with this one is at the beginning of the sentence, since I'm pretty sure any good news shouldn't be met with an "at least."
5. "Your husband must be SO excited." I suppose it's only natural to assume that dads want boys and moms want girls, but perhaps this stereotype should be kept on the down low? Call me crazy, but I tend not to like being painted as the unfortunate woman whose sole existence is based on producing a little replica of herself. I understand that some women quite desperately want girls – and yes, one day I'd love to have one too. But it doesn't mean that I'm not equally thrilled each time we have another perfect little prince.
6. "Will you be trying again for a girl?" Enough with the verbal molestation!
7. "When I found out I was having a boy, I cried." Really? Well then you of ALL people should damn well know better! I actually got this from a woman when heading into a public restroom. There I was just minding my own business, when I was ambushed by a stranger whose hands magnetically gripped my belly.
"What are you having?" she asked me, wide eyed.
"A boy. It's my third boy."
She winced. "Oh. I have two boys…"
I perked up. A teammate! An ally in this million-dollar-family world! Surely this person wasn't about to burst my bubble. But then…
"When they handed me my second boy, I cried."
I should say, that while I have no judgment for those who feel similar disappointment when they find out their babies' genders, I do have a problem with the context and timing of this comment. If I had expressed some disappointment of my own, then fine, commiserate away. But I hadn't! All I wanted was to take a pee.
8. "They say after three kids of the same gender, your body resets and you'll have the opposite gender." (Or any other hoodoo, superstitious nonsense.) It had been approximately ten seconds since I found out our baby's gender when the ultrasound tech spewed out this completely unscientific rubbish. Oh don't get me wrong, I'm the absolute worst when it comes to buying into the old wives' tails. (Yes, I peed into the cup of baking soda and guess what it said…BOY!) But here's the thing: Who said I was hoping for a girl? Did you somehow mistake my ear-to-ear grin for disappointment?
9. "You're losing your femininity." Ah yes, I'm clearly the pregnant man. (Did you catch me on Oprah a few years back?) I mean, what else could I be if all I seem to produce are tiny testosterone machines? And come on, we all know that moms of boys drive minivans littered with stinky sports equipment, grow beards and beat up referees in their spare time.
10. "Better luck next time!" There are just no words.
To be fair, most of the people who've said these things weren't trying to bring me down. In fact, a lot of them either didn't have kids yet or were too old to remember the rawness of what it feels like to be treated like a walking baby vending machine meant to pop out whatever gender pleases everyone. So most of the time now, I do try to take it all with a grain of salt, remembering that they mean no harm.
…And other times, I lose my shit.
This article was originally published on