Another School Starts No Homework Policy Because Yes, Parents Can Change Things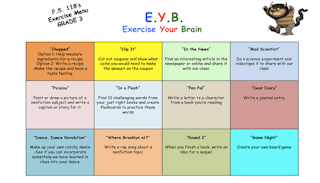 Brooklyn school moves to play-based learning and adopts no homework policy
Parents and teachers at P.S. 118 in Park Slope, Brooklyn, have made the bold decision to adopt a no homework policy and are, instead, encouraging play-based learning. This means that instead of pages of worksheets, they are encouraging kids to do things like cook with their parents and do science experiments at home. Sing it with me: Hallelujah!
The parents at P.S. 118 began sending research to the school, and, after studying the issue and talking with other educators, the school has decided to give a different kind of at-home learning a try. They have started a program called "Excercise Your Brain," which allows students to choose from a rotating list of activities such as making flash cards for ten challenging words in their school reading, writing a letter to a character in a book they've read, and creating their own board game.
How much more excited would your kids be to do this kind of homework instead of five pages of worksheets? And how much happier would parents be to spend time with their children getting this kind of homework done? Clearly, this would make everybody happier, but it would also make learning more fun. After all, which seems like a better way to teach a first-grader how to do fractions — a worksheet or measuring out ingredients for dinner? (We think it's the second one.)
The subject of the effectiveness of homework is not a new issue but it's been gaining steam over the past few years. Just last month a teacher in Texas went viral after she wrote a letter telling parents that there would be no homework for her second-grade class this year. Her argument is that there's a lot of research, including an oft-cited 2006 meta-analysis from Duke University, that shows a weak correlation between homework and student achievement before seventh grade. In fact, homework has been found to cause "…physical and emotional fatigue, fuel negative attitudes about learning and limit leisure time for children."
Now, it's understandable that many of us will think back to our own elementary school experiences and say, "Well, boo-effing-hoo. School is supposed to be hard and homework isn't supposed to be fun. And you're telling me to worry about my kid getting enough 'leisure time'? Please. I'll let you see yourself out."
We get that.
But the world has changed, what we know about learning has changed, and what our kids require in order to be successful has changed — so shouldn't our education system change, too? Anything that affects so many people and has been around for this long has to adapt, and our expectations regarding homework and young kids are long overdue for an update. Making changes to an institution like school makes people nervous, especially since this is something that deeply affects our children. But there is a good chance that getting rid of homework for younger students and replacing it with different kinds of learning activities could the best thing for our kids and for families in general. And as parents, WE have the power to demand these changes if we want them. Just ask P.S. 118.
Like Scary Mommy? You'll love our free e-book. THE MOM CLUB: 10 Stories to Make You Feel Like a Better Parent." Get it here!
This article was originally published on