Another Pouch Recall Begs The Question: Can We Make These Things Clear, Please?
by Valerie Williams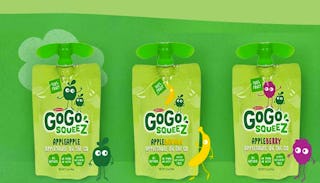 Image via GoGo Squeez
GoGo Squeez is voluntarily recalling some of their fruit pouches after discovering mold. This is far from the first time pouches were recalled for a mold problem, which begs the question: Why in the world are they not all clear yet?
From a letter posted on the GoGo Squeez website, the company explains the reason for the recall and their plans to avoid it in the future:
We are doing this because we identified an issue in our recent production that led to the development of some common mold (like what can form on fruit) in a small number of pouches.
An independent lab tested the mold, and an expert microbiologist determined that it poses no known health risk. However, we know mold is gross and unpleasant to look at or taste, and this is simply not the kind of experience we want you to have. As a consequence, we took every step to fully understand and fix the problem. We are completely confident that we are once again meeting our high quality standards. Additionally, we have been working closely with the FDA on our actions and we will keep you updated with any new information.
The products being recalled will have a"Best Before Date" between 6/30/16 and 7/26/16, so check your own pantry to make sure you aren't affected. It sounds like GoGo Squeez is taking the proper steps toward fixing the problem and addressing consumer concern. These things happen. As they said in their letter, fresh fruit molds too. That said, all of these pouches should be clear so it's easy to see the food inside. Capri Sun was plagued by mold recalls for years before finally putting clear bottoms on all of their product so parents could rest assured that there was no mold or other foreign matter in their juice. It just makes sense.
No one is foolish enough to think that any foods produced in a factory are totally free from the threat of non-food items or mold ending up in it. I heated up a frozen dinner years ago only to discover upon opening the film that it had a cicada bug in it. As gross as it was to see, after calming down, I realized how easy it was for that to happen. It's unfortunately a risk we take when we buy anything processed in a factory. Bugs happen. Foreign particles happen. Mold happens. However, making the bottoms clear on food pouches intended for children to eat seems like a very reasonable step for companies making these products.
My kids are older, so we missed the "food in pouches" craze by a few years. I'm not sure I ever would have bought them knowing the food inside wasn't visible. While I'd never judge another parent who feeds them to their kids, I'm simply too grossed out thinking of what could lie within the package that I can't see. That said, imagine how many other parents refuse to purchase them for the exact same reason? Making the pouches clear would probably cause their sales to go way up. It sounds like a total no-brainer that would make them money and stop kids from ingesting gross mold. Hopefully, GoGo Squeez decides to take a cue from Capri Sun so these recalls become a thing of the past.
This article was originally published on