Anthony Bourdain Found Dead At 61
by Valerie Williams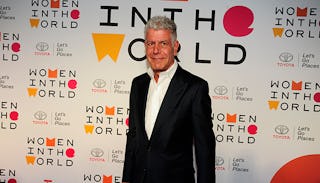 Image via Paul Bruinooge/Patrick McMullan via Getty Images
Anthony Bourdain died while in France shooting his show, "Parts Unknown"
American chef, author, and television personality Anthony Bourdain has passed away at age 61 while in France filming his show Parts Unknown.
CNN reports that Bourdain died by suicide. He was found in his hotel room by friend and fellow chef Eric Ripert.
The statement reads, "It is with extraordinary sadness we can confirm the death of our friend and colleague, Anthony Bourdain. His love of great adventure, new friends, fine food and drink and the remarkable stories of the world made him a unique storyteller. His talents never ceased to amaze us and we will miss him very much. Our thoughts and prayers are with his daughter and family at this incredibly difficult time."
CNN president Jeff Zucker sent an email to employees about Bourdain's passing. "Tony was an exceptional talent," he said. "Tony will be greatly missed not only for his work but also for the passion with which he did it."
Parts Unknown is Bourdain's award-winning series for CNN. It was through his television shows and books that he was able to educate his audience about far more than food. His work helped him become a voice for advocacy for marginalized people and he was able to use his fame to work toward safer working conditions for restaurant staff, according to CNN.
It was a 1999 article for The New Yorker called Don't Eat Before Reading This that paved the way for his best-selling book, Kitchen Confidential: Adventures in the Culinary Underbelly. That book led to television shows on Food Network, the Travel Channel, and CNN. The eleventh season of Parts Unknown just premiered last month. He's won a number of awards for his work including two Emmys.
In the last few years, Bourdain spoke in support of immigrant rights, particularly in the restaurant industry. In 2015, he attacked then-candidate Donald Trump's disgusting stance on illegal immigration pointing out that "every restaurant in America would shut down" if the country went through with his plan. During an appearance on a radio show he said, "I walked into restaurants and always, the person who had been there the longest, who took the time to show me how it was done, was always Mexican or Central American. The backbone of the industry — meaning most of the people in my experience cooking, preparing your food."
Those who knew him or simply loved his work took to Twitter to share their shock and grief.
Along with his advocacy in the restaurant industry, Bourdain spoke extensively about mental health, substance abuse, and the use of drugs in restaurant kitchens. This morning, CNN's Brian Stelter said, "Anthony had his share of demons. He talked about drug abuse in his past in a different stage of his life. But I don't have any further information on what could have led to this event."
Bourdain leaves behind an 11-year-old daughter, Ariane Bourdain. He was dating Italian actress Asia Argento at the time of his death.
If you or someone you know is considering suicide, please contact the National Suicide Prevention Lifeline at 1-800-273-TALK (8255).
This article was originally published on