10 Books To Stop Bullying And Teach Your Kids To Be Upstanders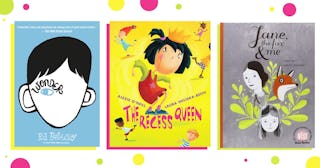 Scary Mommy and Amazon
Bullying is one of my biggest fears for my kids. I am terrified that they will become the target of someone's negative and hurtful behavior, but I am not too naïve to think one of my own kids couldn't become the offender as well.
I try to teach my kids to be kind, and to be upstanders for friends who are being picked on. We can tell kids a million different ways that there is a zero-tolerance policy for bullying at home and school, but unless they feel empowered to make good choices and understand empathy, that message is lost. The reasons a kid bullies vary: some kids are seeking attention, some are being bullied themselves, and some have low self-esteem. It's never okay to hurt someone with words or actions, but understanding why a person is aggressive can help reduce bullying behavior.
Here are 10 books to read in the classroom or at bedtime to combat bullying.
School becomes a problem for Llama Llama when he has to contend with Gilroy Goat. Gilroy is a bully and seems to enjoy laughing at Llama Llama. He calls him names and kicks sand on him. But Llama Llama remembers to talk to someone so he tells his teacher what is going on. Dewdney shows us what can happen when we speak up and when we give someone a second chance. Llama Llama and the Bully Goat is great for preschoolers navigating their first social experiences away from home. (Pre-K)
It's hard to be noticed when you're small, but Sally McCabe doesn't let size stop her from making a huge difference. She's fed up with seeing her classmates bully each other and decides to speak up. The Smallest Girl in the Smallest Grade shows kids that it doesn't matter how small or quiet you may be, you can make big changes. (Pre-K-Kindergarten)
Extremely Cute Animals Operating Heavy Machinery is about resilience and the power of friendship. When a bully and his buddies continue to knock down the cute animals' sand castles, the cuties finally bring out the heavy duty equipment to make the coolest amusement park ever. The bullies can't destroy this and they want in. Will the bullies learn that their actions have consequences? And will the cute animals accept an apology? (Pre-K-Grade 3)
4. Neither, Airlie Anderson
When Neither is born into the land of This and That, they are not a blue bunny or a yellow bird like all of the others. They are a mix of both and are happy about it. But their difference makes them a target for exclusion. Neither is forced to leave This and That, but finds the Land of All. (Pre-K-Grade 3)
The Recess Queen is a fun, fast-paced rhyming book that tells the story of feared Mean Jean, the Recess Queen. A new girl, Katie Sue, shows up and isn't intimidated by Mean Jean and actually befriends her. The playground is safer and everyone is happier. Solving bullying problems is not always this easy, but this book shows kids that sometimes a person just needs a friend. (Pre-K-Grade 3)
Are you a bucket dipper or a bucket filler? Have You Filled a Bucket Today? is one of my favorite books to visually illustrate the consequences of what happens when we are mean, selfish, and aggressive versus kind, forgiving, and resilient. The book explains that each of us has an invisible bucket we carry around. When we are sad or angry or frustrated, our buckets are low or empty. When we are proud or happy our buckets are full. When our own buckets are low, we tend to dip into someone else's bucket; but being a bucket dipper hurts someone else and the dipper still feels miserable. Filling someone's bucket helps them and us, though. Showing kids that kindness wins is great, but it's important for kids to see what happens when they are bullies too. (Pre-K-Grade 4)
Lucy is unique. She has big, curly hair and she loves to eat spaghetti in a hot dog bun for lunch. Ralph likes to make fun of her for these traits. Lucy's Papa Gino has taught her that treating someone with love and kindness is the right thing to do, but it's hard to see Ralph as someone with a heart and feelings when he is so mean. But when Ralph needs help, she decides to do the right thing. (K-Grade 5)
8. George, Alex Gino
George was assigned male at birth but knows she is a girl. She hasn't told anyone yet that she is a girl and is often bullied for not being like other boys. When George finds out the class will be performing Charlotte's Web for the school, George is determined to play Charlotte. The problem is that the teacher tells her she can't because she isn't a girl. George finds the strength to be herself. This is a raw and beautiful look into what gender nonconforming and transgender kids experience at home and school. (Grades 3-7)
9 Wonder, R.J. Palacio
Wonder is told from the perspective of many characters, but the central focus is on Auggie Pullman, who is about to start 5th grade at a mainstream school after being homeschooled all of his life. Auggie was born with medical needs that have required him to have 27 surgeries—many on his face. He doesn't look "normal." Auggie is stared at and made fun of, but we witness the empathy and struggles of others as they get to know Auggie and work through their own biases and judgments. Emily Bazelon, author of Sticks and Stones: Defeating the Culture of Bullying and Rediscovering the Power of Character and Empathy, called Wonder the "best kids' book of the year." (Grades 3-7)
Jane, the Fox, and Me is a graphic novel about Hélène, an overweight 11-year-old who is outcast because of her size. She sees herself as fat and so do the popular girls. Hélène places her self-worth in the hands of these mean girls but manages to console herself with the book Jane Eyre and a fox she meets on a school camping trip. With the help of a new girl, Hélène is able to start ignoring the negative voices and begins to see there is nothing wrong with her. (Grades 5-9)
As much as we would like to keep our kids in bubbles against all that could hurt them, we reluctantly need to let go of that notion. However, we can give our kids the tools to be resilient and empower them to make good choices when it's hard. And we can read stories with them to reinforce the importance of kindness and compassion.
We may earn fees from purchases made via links on this page and affiliated sites. All opinions are our own.
This article was originally published on