Donald Glover Narrates Anti-Harassment PSA For People Who Still Don't Get It
by Jerriann Sullivan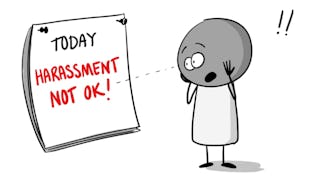 Image via YouTube
The new anti-harassment PSA comes from Rashida Jones and Time's Up
While the Time's Up movement has raised a lot of money for victims of sexual harassment, the organization has also worked on other ways it can help the campaign. The latest creative nugget from Time's Up is an anti-harassment PSA that helps inform people on the appropriate ways to interact with others at work.
Directed by Rashida Jones and narrated by Donald Glover, the PSA asks,"Has the current wave of sexual allegations left you scared, confused, maybe even a little angry?"
At first, the video goes over some pretty basic stuff. For example, should you comment on your coworker's physical appearance or push full-body hugs on people? Uhh, NOPE. You'd think plenty of people were aware of this, but the #MeToo movement is a painful reminder that plenty of people don't know how to behave at work. Or simply choose not to.
Either way, Jones told BuzzFeed they wanted to create something that was "not going to be necessarily just for women, something that could travel on the internet, something that's filled with facts, and hopefully, a little bit entertaining that could help educate people a tiny bit."
Jones also says that the people involved in the Time's Up campaign wanted to create practical solutions for people dealing with harassment. "Everybody just kind of raised their hand and took a job," she shared. "It was such a new structure. It was a little bit like how you would handle a bake sale at the beginning." She explains that the PSA focuses on people and how they "suffer day to day with these nuances and microaggressions, which we may not have the language to defend ourselves against."
Jones feels Glover is the perfect person to act as narrator: "I really respect his ability to be a part of and criticize culture at the same time — I think it's a really hard balance to strike." Glover isn't overly comedic in the PSA, which Jones said helped make the information more digestible. "He brings this kind of cool, laid-back energy to it, which I think is good, because I think all of us have kind of 'preach fatigue'," Jones shares. "It's been a tough conversation to include men in, because I think there are a lot of things women feel men have not understood up until now, and they don't feel like it's their job to educate them."
Since the video has some great tips, we're hoping it starts a conversation or, even better, promotes people to behave better at work. But Jones did tell reporters that the Time's Up group isn't trying to dictate how people act.
"This is not a mandate; we're not telling people how to live their lives," she shared. "This is really just to incite self-reflection and for people to look at the way they behave in their workplaces."
Time's Up was created by 300 women in the entertainment industry following the sexual assault and harassment allegations against Harvey Weinstein, which were made public last year. The group also established a legal defense fund that provides resources for victims from all industries of sexual harassment.