Maskless Morons March Through Target Shouting 'Take Off Your Mask'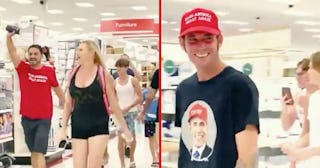 davenewworld_2'/Twitter
A group of anti-maskers caused a scene up and down the aisles of a Florida Target store
In a video that has now gone viral on every avenue of social media, a group of anti-mask demonstrators paraded through the aisles of a Florida Target store, screaming at customers to "take off your masks." The video was recorded by a fellow shopper and features the group of people, many donning red MAGA hats and shirts, begging for attention in the store. In a state where almost one-third of children tested are positive for COVID-19.
To the tune of "We're Not Gonna Take It," these people hooped and hollered for everyone in the store to take off their masks — a tiny piece of breathable fabric that is quite literally one of the only things keeping everyone in the United States from catching COVID-19 — launching droplets galore near unsuspecting people browsing greeting cards and bath towels.
One of the protestors, Cristina Gomez, shared a live stream of the group's antics in Ft. Lauderdale yesterday. The video shows Gomez and others shouting, "Take your mask off!" and urging fellow Floridian customers to join them.
"If an infant doesn't wear a mask, then no one should wear a mask," Gomez says. "People looking at us like, 'What's going on?' Isn't it crazy how people now look at me like we crazy because we don't have a mask on? I think y'all crazy for having a mask."
The incident caused many reactions on social media — from those lambasting the group to those pointing out the group's antics aren't funny, but rather dangerous in the middle of a pandemic.
https://twitter.com/jetpack/status/1306072250270056448
Like many major retailers, Target requires shoppers to wear masks or face coverings — with the exception of those with medical conditions and young children under two years of age.
Gomez has been public about her anti-mask stance before, making headlines after she voiced her opinion at a Palm Beach County commissioners meeting in June.
"You literally cannot mandate somebody to wear a mask knowing that that mask is killing people," she said at the time. "Every single one of you that are obeying the devil's laws are going to be arrested and you, doctor, are going to be arrested for crimes against humanity."
The United States still leads the world in COVID-19 cases, with over six million total — including 200,000 deaths and counting. Florida currently has 668,846 confirmed cases and is still reporting new cases in the thousands. As of this week, Florida recorded more than 3,100 coronavirus cases and 146 deaths.
This article was originally published on