There's Been A Horrifying Increase In Anti-Semitic Crimes Since The Election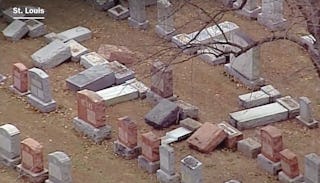 Image via The Washington Post
A cemetery was vandalized this week along with a new rash of bomb threats reported
Since this past January, there have been 69 bomb threat phone calls made to Jewish community centers, targeting 54 centers in 27 states and one Canadian province. Many of them house preschools and daycare centers.
Let that sink in. Bomb threats to buildings where children are in regular attendance and our president has hardly said a word about it.
The Washington Post reports that yesterday, the Anti-Defamation League reported a wave of bomb threats at JCCs over 11 different U.S. cities. They said, "While ADL does not have any information at this time to indicate the presence of any actual bombs at the institutions threatened, the threats themselves are alarming, disruptive and must always be taken seriously."
In the past week, a Jewish cemetery in St. Louis, Missouri was vandalized with over 170 headstones toppled or damaged. There's no information yet on the perpetrators or their possible motives.
Before we heard a word from President Trump condemning these despicable acts, Hillary Clinton spoke out on Twitter, urging him to say something about the increase in bomb threats, online attacks and the cemetery vandalism incident.
Her tweet came around the same time that the president of the World Jewish Congress, Ronald S. Lauder, said in a statement that "anti-Semitism is alive and kicking." Lauder says, "American Jews are worried. It is shocking to see that Jewish sites are once again being targeted by criminals."
So far, Trump's only response to the attacks and vandalism has been to say that the attacks are "horrible and painful" and "a very sad reminder of the work that still must be done to root out hate and prejudice and evil."
The comments came during a visit today to the Smithsonian National Museum of African American History and Culture. While he's saying the right things now, we have to wonder where this condemnation was last Wednesday during his joint press conference with Israeli Prime Minister Benjamin Netanyahu, where his response to a reporter asking about the sharp rise in anti-Semitic sentiment and his administration's role in the situation was puzzling, to say the least.
Instead of roundly denouncing anti-Semitic acts and making clear that they're unacceptable in all forms, President Trump instead took the opportunity to once again brag about his electoral college victory and to decry the question as unfair. Not only did he choose to not sharply rebuke or even address anti-Semitism, he used the time to boast about himself.
There's not much we can do about our president's utter lack of meaningful action in regard to something this terrifying and crucially important, but we still need to discuss the current news with our children, who might be confused or afraid.
PJ Library is an organization best known for giving free books to Jewish children. They also offer helpful tips about having these difficult conversations with your kids. They suggest keeping the discussion ongoing, and age-appropriate. Encourage them to ask questions and if they might find themselves victims of discriminatory behavior, help them come up with healthy comebacks. Most of all, model the kind of behavior they should be displaying.
We might not have any control over public figures and their response to these terrible acts, but we can teach our kids the right way to react.
This article was originally published on