Anti-Vax Protestors Shut Down Mass Vaccine Site In Infuriating Videos From LA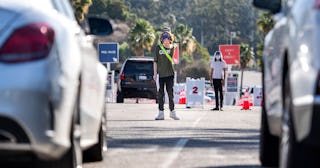 Sarah Reingewirtz, Los Angeles Daily News/SCNG
A group of anti-vax protestors shut down a mass vaccine site in Los Angeles, forcing seniors to wait several hours in their car for a shot
If it wasn't hard enough already to get a COVID-19 vaccine, a group of anti-vax and seemingly Q-Anon related protestors rushed a massive vaccine site in Los Angeles, Ca on Saturday, 30, 2021, causing the vaccine site to close as seniors waiting in their car for a shot were forced to sit in their cars for an additional hour.
According to the LA Times and other first-hand accounts on Twitter, the far right/anti-vax crew of protestors forced the already overcrowded site to shut down for an hour while police dealt with the protestors. Carrying signs that said "Save Your Soul TURN BACK NOW," "99.96% survival rate" and weirdly, "I only like muzzles in the bedroom" (?), the motley crew of about 50 protestors walked onto the premises of a drive-in only vaccine center at Dodger Stadium in Los Angeles, a COVID-19 vaccine super site with the ability to vaccinate 12,000 people per day. Essentially, it's not like the protestors shut down a small clinic, this was a drive-in only vaccine site where thousands of people were already waiting for hours in their cars, expecting to receive a vaccine that day.
When these protestors arrived on foot — which isn't even allowed at the vaccine site — they made it all the way to the gate without being stopped and instead of, oh I don't know, the police department forcing them to leave the way police loved to do with Black Lives Matter protestors all summer…the Los Angeles Fire Department shut the gates to the vaccine site for an hour. So the people who were already in line in their cars for an hour (or more), had to wait even longer.
Since the vaccine became available to seniors in California, this particular vaccine site and many others in the state have been plagued with long lines, forcing seniors to wait in the queue in their cars for hours with no way to use the restroom. Even without protestors, it's a long and difficult day.
"We have been sitting here for about half an hour," one person tweeted on Saturday when the protestors arrived. "Nobody is moving."
"The line stretched back further than I could see," local reporter Sam Braslow also shared.
One man told the LA Times that he traveled 30 miles to the vaccine site and sat in his car for an hour before the protestors shut down the site, forcing him to wait even longer.
One man waiting for a vaccine got so exasperated he got out of his car and begged the officers to open the gate and let people in for their appointments, which they eventually did after an hour.
Many of the protestors chanted and carried signs referring to Bill Gates, a big target for the QAnon/Anti-Vax crowd. There were also many references to "sheeple," which is also QAnon language. One woman accosted a man who was there to get the vaccine and said he needed to "educate himself" to which he said "I already did" and when she said, "So you want to put nano aluminum into your body?" He simply said "Of course!"
A flyer for the protest claimed that "this is a sharing information protest and march against everything COVID, Vaccine, PCR Tests, Lockdowns, Masks, Fauci, Gates, Newsom, China, digital tracking, etc."
Interestingly, the LA Times reports that flyers for the event on social media also urged protestors to avoid wearing Trump/MAGA gear, which is wild, because now the anti-vax lunatics don't even want to be associated with Trump anymore.
Los Angeles has been plagued with bizarre anti-mask and anti-COVID protests in recent months and for the sake of everyone who needs that life-saving vaccine, we seriously hope this doesn't continue to happen at other cities and other vaccination sites.