Anti-Vax Protestor Compares School Mask & Vaccine Mandates To Rape
by Kristina Johnson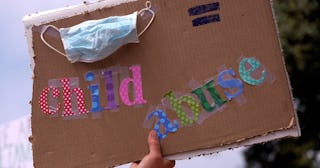 RINGO CHIU / AFP) (Photo by RINGO CHIU/AFP via Getty Images
The deranged comment was hurled at parents and children just trying to walk to school
A "Walk to School" Day event in Beverly Hills quickly turned into a heated clash over vaccines and masks, as protesters were caught on camera harassing masked parents and kids just trying to get to class.
The ugly situation went down in Beverly Hills, California. One group of parents and kids were walking from the city's civic center to Hawthorne Elementary School with Mayor Bob Wunderlich, according to the reporter, Samuel Braslow, who captured many of the clashes that followed.
The videos start out with protesters running all their usual lines about freedom and propaganda and kids not being able to breathe in masks — which, um, it's been a year and a half, and pretty sure there's been not a single case of mask injury? Because it's not a thing. But the scene takes a truly unhinged turn when one of the protesters starts tossing around the term "rape."
https://twitter.com/jetpack/status/1445841854876971011
"You should choose what goes on your child's face and in your child's body. This is rape. This is rape. They're trying to rape our children with this poison. They're gonna rape their lives away," one woman is heard saying. According to Braslow, that's Shiva Bagheri, the protest's organizer.
I sort of feel like I need to pour bleach into my eyes after typing out her ludicrous statement, because it's such an outrageously disgusting comparison. I don't know how you possibly get through to someone who believes such a thing. It's a freaking mask. It protects against a deadly virus.
"Masking children is child abuse," another protester yells. "You mask your child, you're a child abuser." Apparently screaming at children just trying to walk to school is totally fine, though. Not terrifying or traumatic for them at all, I'm sure.
In another video tweeted by Braslow, Mayor Wunderlich is seen trying to convince protesters not to ruin the walk to school and meet with them elsewhere instead, but they obviously rejected the offer. It's not the first time the group has protested at the school, either.
Braslow posted videos from an April event where protesters tried to talk to the children directly, telling them that COVID is a lie. A young student awesomely sticks her tongue out in response.
It seems many of the parent on the other end of the shouts and insults largely ignored the protesters at the latest rally, which is probably for the best. You don't have to engage with ignorance when you've got the facts on your side. The Beverly Hills school district has credited its mask mandate with keeping school transmission rates low — and keeping kids healthy and safe.