Anti-Vaxxers Don't Want To Be Called Anti-Vaxxers And Twitter's Not Having It
by Madison Vanderberg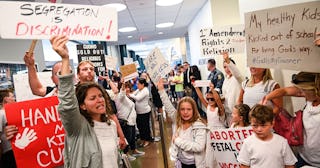 Newsday LLC/Getty
Anti-vaxx group asks media to stop calling them "anti-vaxxers," and Twitter had something to say about it
Apparently, anti-vaxxers don't like that they've gotten a bad rap in the media (hmm wonder why?) and have asked all media outlets to stop calling them that. Anti-vaccination website Crazy Mothers posted the demand on social media and asked all media outlets to "please retire the use of the term 'Anti-vaxxer,'" in favor of their preferred term, "Vaccine Risk Aware," because they just don't like being called "anti-vaxxers" anymore. Naturally, the internet was like, "lol question mark?"
"Dear Media," the Crazy Mothers post began. "Please retire the use of the term 'Anti-vaxxer.' It is derogatory, inflammatory, and marginalizes both women and their experiences. It is dismissively simplistic, highly offensive and largely false. We politely request that you refer to us as the Vaccine Risk Aware."
The plea went viral and the internet chimed in with more suitable names for their so-called group besides "Vaccine Risk Aware."
"Immunologist here…You are not 'Vaccine Risk Aware', you are 'Dangerously uninformed and insisting that public health experts indulge your fantasies.' If you don't want Anti-vax, the only thing left is Self-Indulgent And Irresponsible Crazyperson," said one Twitter user.
Other suggested names included: Pro Epidemic, Pro Death From Preventable Illness, Plague Enthusiasts, and Plague Spreaders, to name a few.
https://twitter.com/jetpack/status/1201711037604605952
The latest of 18 studies came out this March and proved yet again, that there is literally no link between measles, mumps and rubella (MMR) vaccine and autism, however, the constant spread of misinformation continues to swell in the anti-vaxx community and the U.S. Centers for Disease Control and Prevention announced just this June that measles cases in the U.S. have surged to the highest number reported in 25 years.
"We cannot say this enough: Vaccines are a safe and highly effective public health tool that can prevent this disease and end the current outbreak," Health and Human Services Secretary Alex Azar said at the time. "The measles vaccine is among the most-studied medical products we have and is given safely to millions of children and adults each year," he said. "Measles is an incredibly contagious and dangerous disease. I encourage all Americans to talk to your doctor about what vaccines are recommended to protect you, your family, and your community from measles and other vaccine-preventable diseases."
As long as previously eradicated and preventable diseases continue to spread and take young lives in America, we don't think anyone in media will have much empathy for "Crazy Mothers" and their plea for a slightly less derogatory nickname.