Antonio Basco's Car Was Stolen And Wrecked — So His Community Rallied Around Him Again
by Christina Marfice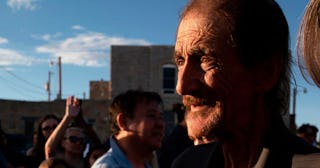 PAUL RATJE/AFP/Getty
Antonio Basco now has a new car after his was stolen, thanks to the generosity of El Paso
Antonio Basco just buried his wife after she was one of the 22 people killed in a shooting at an El Paso Walmart earlier this month. Basco had no family left in town after his wife died, so he invited the public to help celebrate her life, and they showed up. People flew in from all over the country. A line snaked from the church out onto the sidewalk outside as people waited to wrap Basco in hugs, to donate flowers, and to remember a woman they had never met — as well as 21 other victims of gun violence.
Now, the community is rallying around Basco once again.
Soon after his wife's funeral, his beloved Ford Escape was stolen. It used to be his wife's car, and he lived in it for a week in the Walmart parking lot while he was mourning her. Whoever stole the car crashed and totaled it, and we can only imagine how devastated Basco must have been by the awful situation.
The story was shared online by Casa Ford Lincoln, El Paso's local Ford dealership that had already done a lot to help Antonio Basco — while he was living in the car, they serviced it for him, repairing its broken air conditioning and fitting it with a set of new tires. When Casa heard the news about the car being stolen just hours after Basco buried his wife, its owners knew they had to help somehow.
They knew Basco loved that car, but they were lucky — they had a similar blue Ford Escape in stock. So they donated it.
"We caught news of his vehicle being totaled and it was a natural extension for the same folks who helped the first time to call and text asking what we could do," Ronnie Lowenfield, co-owner of Casa Ford Lincoln, told Buzzfeed. "We had a blue Ford Escape in stock. So we donated it to him so that he could have a mode of transportation and still have a connection to his wife."
Casa also posted a video of when they presented Basco with the new car.
In the video, Basco is all smiles. He hugs the people around him and thanks them over and over for their kindness.
"You don't know how much this means to me," he tells the crowd gathered at the dealership for the happy moment.
We don't exactly know what it means to him, but from seeing a man smile after going through so much, we can guess.
This article was originally published on