Hundreds Show Up To Mourn El Paso Victim After Husband's Heartbreaking Plea
by Leah Groth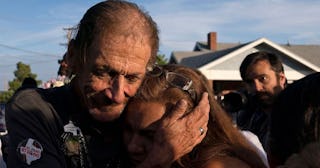 PAUL RATJE/AFP/Getty Images
Antonio Basco asked the people of El Paso to come out for his wife's funeral, and they showed up
During a tumultuous and unnecessarily violent time in our country, it is nice to be reminded that love still makes the world go 'round. After losing his wife of 22 years at the hands of the El Paso Walmart shooting, Antonio Basco asked his community to rally around him and show up at her funeral. What transpired is a beautiful and stunning example of how community solidarity and unconditional love for total strangers can do its part to overthrow hate.
RELATED: What To Know About Making Funeral Arrangements: A Comprehensive Guide
63-year-old Margie Reckard was one of the 22 people who lost their lives on August 3 during the tragic mass shooting targeting Mexican immigrants. Reckard and Basco were considered common-laws and had been together for 22 years.
As the couple had no family in the area, Basco was worried that nobody would show up for her funeral. So he made a heartbreaking request, inviting the public to attend the services.
His plea went viral. When he walked into La Paz Faith Memorial and Spiritual Center on Friday he was surprised to find the building was at capacity. Inside the service, the 400 mourners welcomed him with applause and hugs. And despite the sweltering 100-degree heat, another 700 waited outside.
In addition to the spectacular attendance, the center was filled with gorgeous flowers. According to CNN, strangers from all over the world — including Japan and New Zealand — sent arrangements, which were scattered around the church and in front of the alter. Over 1,200 people have donated to the GoFundMe campaign set up to help Basco with his expenses, raising more than $32,000.
"People were telling me they came from different faiths, different cities. It's just incredible how much love and support every single one of you has shown," Reckard's grandson, Tyler, told CNN. The outlet reports that one woman, Hala Hijazi, even flew in from San Francisco, because she was so moved by the love Basco had for his wife.
"I didn't want him to suffer alone. I didn't want him to grieve alone," she told them through tears, adding that "all the rhetoric that's going on in this world" makes her want to show kindness. During the service, she was able to express her gratitude toward the widow. "I thanked him for not just bringing El Paso together, but bringing the country together," she said. "I have never witnessed a human being as humble, as kind, as sweet, as pure of heart that I've ever met in my entire life."
Since the tragedy, Basco visits the makeshift memorial behind Walmart every day, grieving his wife and leaving her flowers. "I promised her fresh roses every day," he said. Basco told CNN that he was sure that everyone who attended the services would "feel" his wife's "presence." Judging by the photos and videos of the event, that was a major understatement.
This is such a much-needed reminder that showing up for other people — even total strangers — can have a powerful impact on everyone involved. The only way we are going to overcome all of the hate currently circulating around this nation is by overthrowing it with love — which is exactly what Margie Reckard's funeral represents.
This article was originally published on