17 Tweets That Will Make You Laugh If You Have Anxiety Or Depression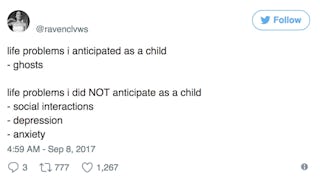 @ravenclvws / Twitter
While there's nothing funny about depression and anxiety, when people struggling with these conditions share their experiences in a humorous or lighthearted way, it can be a powerful tool to cope.
Humor is, in a way, a language used to communicate experiences that may otherwise be difficult to talk about. And when funny posts go viral, like some of the tweets we've picked out below, it can show people they aren't alone in their experiences.
By sharing relatable and funny posts on social media, people with mental illnesses can find a platform to express their experiences and possibly eliminate stigma by opening up the conversation about mental health. It's also a way to bring together those who live with mental illness in a lighthearted way.
If you also use humor to cope with anxiety and depression, here are some tweets you might find relatable:
1.
2.
3.
4.
5.
6.
7.
8.
9.
10.
11.
12.
13.
14.
15.
16.
17.
This post originally appeared on The Mighty.