We Work Hard To Push Through Anxiety And Depression - So Wear It With Pride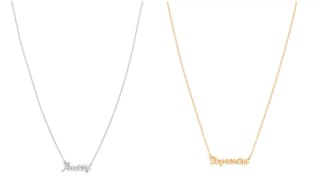 Image via Ban.do
This line of Anxiety, Depression, and Bipolar necklaces were created for a great cause
There's nothing better than buying really pretty jewelry for a really great cause. Jen Gotch, the founder of the lifestyle brand Ban.do, has launched a necklace line that features the words "anxiety," "depression," "bipolar," and "resilience." They were created to break down stigmas and 100% of the proceeds go to Bring Change To Mind, a nonprofit that raises awareness about mental health.
Busy Philipps, everyone's internet best friend, has already taken to Instagram and snapped a picture of herself wearing her Anxiety necklace. "I used to feel so isolated & alone about my anxiety- especially after Birdie was born," she wrote. "…I'm proud to wear my anxiety around my neck for everyone to see. I work very hard daily to push through it and not let it get the best of me. "
Each necklace is $48, comes in silver or gold, and can be worn on a 16 or 18 inch chain. They're a brave, important symbol of strength and honesty.
"One thing we can all do is work to remove the stigmas associated with mental illness," Gotch wrote on the brand's site. "These necklaces are a step in doing that and I hope they can also serve as a conversation starter for people to be more open about what's going on in their minds."
There's a lot of other really positive jewelry on Ban.do, that's all about self-love, self-care, and helpful messaging. Like, these very cute, colorful bracelets that will make you feel like you've been blasted by a ton of sunshine.
Hopefully these jewelry pieces will give you the warm hug you need and serve as a reminder that you're never alone.