Anything You Can Do Gisele Can Do Better
by Hollee Actman Becker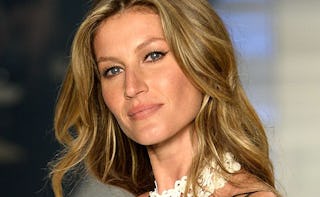 The former Victoria's Secret Angel—who is married to NFL quarterback Tom Brady—said goodbye to the business that made her famous with a final strut down the runway at Sao Paolo Fashion Week. "I am grateful that at 14, I was given the opportunity to start this journey," she posted on Instagram. "Today after 20 years in the industry, it is a privilege to be doing my last fashion show by choice."
Aw … tear.
Still, I'm pretty sure this won't be the last we hear from Mrs. Brady, a total know-it-all who likes to dole out self-congratulatory comments and smug parenting advice like backstage diet pills. Gisele seems to spark controversy every time she opens her mouth, particularly when it comes to the subjects of pregnancy and breastfeeding and childbirth. Here are a few of her most famously unfiltered comments:
On Staying Fit During Pregnancy
Gisele told Vogue back in 2010 that, while pregnant, she did yoga and was practicing kung fu "up until two weeks" before giving birth. "I think a lot of people get pregnant and decide they can turn into garbage disposals," she told the magazine. "I was mindful and I gained only 30 lbs." She's so awesome!
On Breastfeeding
"Some people here [in the United States] think they don't have to breast-feed, and I think, 'Are you going to give chemical food to your child when they are so little?'" she famously told Harper's Bazaar UK in 2010. Three years later Gisele took her infant to get her teeny tiny ears pierced but I guess foreign objects in ears are better than foreign objects in food. "I think there should be a worldwide law, in my opinion, that mothers should breast-feed their babies for six months," she continued. Um, ok.
On Giving Birth
Gisele gave birth to both of her kids at home, in her bathtub, without drugs. Just ask her. "I had the opportunity to experience the natural process of birth and it was one of the most life changing experiences for me," she wrote on her blog. Fair enough. But then she added that natural childbirth "didn't hurt in the slightest." Really? "You can throw anything at me and I can take it," she said in the documentary The Business of Being Born. "I can do it. Just tell me what."
Here's an idea: Just stop talking now, ok?
This article was originally published on