AOC Just Responded To The Police Officer Who Said She Should Be Shot
by Christina Marfice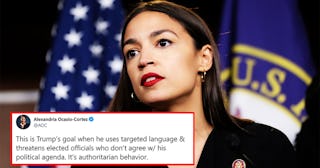 Alex Wroblewski/Getty and Alexandria Ocasio-Cortez/Twitter
AOC is standing strong and blaming Trump in the wake of a police officer saying she should be shot
Just days after Donald Trump tweeted that Reps. Ayanna Pressley, Rashida Tlaib, Alexandria Ocasio-Cortez, and Ilhan Omar, four Congresswomen of color (three of whom were born in the U.S.) should "go back" to their own countries, they're still facing racist rhetoric and threats of violence that have stemmed from Trump's own racist attack against them. In one of the most chilling instances, a Louisiana police officer wrote a post on Facebook suggesting he thinks AOC should be shot.
Officer Charlie Rispoli posted a link to a satirical article about Ocasio-Cortez and commented calling her a "vile idiot" and writing the she "needs a round … and I don't mean the kind she used to serve," in reference to her bartending days before she was elected to Congress.
Another officer in Rispoli's department, Officer Angelo Varisco, liked the post. Both have since been fired.
This week, AOC responded on Twitter to the officer's post, linking it back to Trump's racist comments.
"This is Trump's goal when he uses targeted language & threatens elected officials who don't agree w/ his political agenda. It's authoritarian behavior," she wrote. "The President is sowing violence. He's creating an environment where people can get hurt & he claims plausible deniability."
It's not hard to see the link between a president's personal, racist attacks on women of color, and other people threatening them with violence. Trump's comments literally invite violence against the people he's attacking, and it's horrifying. It feels like only a matter of time before someone gets hurt.
This is also happening at a time when threats against members of Congress are rising sharply. Capitol Police Chief Steven Sund said in a hearing before the House Administration Committee this month that cases his department investigates about threats against lawmakers "continue to grow."
"For FY 2018, we had approximately 4,894 cases. So far for this year, we have 2,502 cases," he said in the hearing. "So we're on par to probably break last year's record."
While the two police officers involved in this threat against AOC were rightfully fired from their jobs, there have been no reports that either of them will face any legal consequences for what probably could amount to a threat on a Congresswoman's life. And this is not an isolated incident. In April, a Trump supporter was arrested after he called the office of Rep. Ilhan Omar, another of the women Trump has been targeting lately, and said he would "put a bullet in her fucking skull." A search of his home revealed six illegally owned guns and hundreds of bullets.
People who say Trump's words are just words are simply not paying attention to the world we live in. His words are inspiring the violent actions of his supporters, and the events we see unfolding show us that that's putting these women in very real danger.