Kids Describing Their Dream Homes Reminds Us Adulthood Should Be More Fun
by Julie Scagell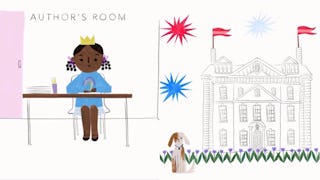 Image via Apartment Therapy
There is nothing better than seeing things through a child's eyes
Sometimes, there's nothing better than seeing the world through a child's eyes. Kids have limitless imaginations and make everything they touch into an adventure. And what better way to get a sense of their creativity than to ask them to conceive their dream home, and then watch as it comes to life.
Lifestyle blog Apartment Therapy asked two kids, Milo and Zamaya, to describe how their future dream homes would look, then had illustrator Penelope Dullaghan bring those ideas to life. There's no way to watch these videos and not smile. They're a reminder of just how amazing kids really are.
First up is Zamaya. The outside of her house, which looks fit for any princess, is made of silverware because of course it is. Her house also has a rope from ceiling to grass but "it actually really hurts" to climb down, so buyers beware. And while there are some strange, shapeless, faceless princesses in every room, we forgive her because OMG we want to live in this house with her forever and ever.
Perhaps my favorite of all the rooms is the "Author's Room" where she keeps all pencils necessary to write her first book, "Saving a Sea Lion."
And if there wasn't reason to love her more, she eats "princess cheerios" for breakfast. Its ok parents, her magic cereal has "no added sugar," where all her friends are invited to wear princess dresses when they come over, "even the boys."
Zamaya is not to be outdone by Milo, whose seven bedroom house has a room just for making seasonings, which makes sense, because he has a "seasoning try-out area" built right into his backyard (along with a waterslide, of course). He's also going to have a TV as big as one-quarter of his house. Why? Well, to invite his friends over and watch a "grown up movie." Because what else would you do with a TV that big.
These kids' dream home monologues also have important messages throughout, delivered in a way only kids can. They're also lessons every adult could stand to remember – one of inclusion, imagination, and defying gender norms. Milo and Zamaya also remind us to surround ourselves with all the things we love, because that's what makes a house a home.
The best part of their videos is the end, when both Zamaya and Milo make sure to say if anyone wants to come to their house, "You all are invited."
Kids are awesome.
This article was originally published on