New App Helps Domestic Violence Victims Collect And Store Legal, Court Admissible Evidence
by Karen Johnson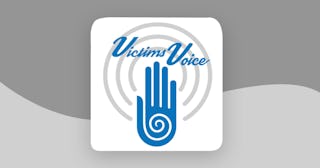 Scary Mommy and Victimsvoice.app
Victims of domestic violence face endless hurdles when it comes to their own safety, their children's safety, seeking justice, and getting free. Because they often don't have resources, money, a way out, a place to go, or they are simply, and understandably, too afraid to leave for fear of what their abuser might do, victims stay. They stay and they stay and they stay. And they endure mental and physical abuse for weeks, months, and even years.
One primary obstacle many face in seeking justice for their abuse is evidence. Far too often, domestic violence cases are thrown out of court and perpetrators are allowed to go free, able to continue terrorizing their partners, because of "lack of evidence," the courts say. The accuser cannot prove their claims—there are no pictures, there are no witnesses, there are no recordings of said abuse. Alarmingly, a case study in New Jersey found that 8 out of 10 domestic violence cases in the state are dismissed. Eight. Out. Of. Ten. Why? Lack of evidence is often the reason.
And because so many victims know that they cannot prove their case, they often don't even come forward at all, which means there is truly no way out.
Well, Sheri Kurdakul, a victim of domestic violence herself, has changed that for so many who are trapped in this cage of terror. And it is because of her experiences enduring abuse that Kurdakul knows of the major challenges victims have in breaking free of those chains — namely, having adequate evidence that can be used in court.
For one, oftentimes abuse happens in a flurry of emotion and noise. Mothers are frantically trying to protect themselves and their children. It's traumatic and terrifying, and as is often the case after a painful event, the victim's memories might be unclear. Also, the abuse may have happened months or years in the past, and the victim is now just coming forward. That, too, can make remembering everything a challenge.
Secondly, many domestic abuse victims know that it's not always easy to collect evidence if the abuser is still in the home. A victim may not be able to safely snap a photo of a bruise or hole in the wall and save it in their phone for evidence. Or text it to someone who can help without inciting further anger and violence.
Finally, a victim may not even know what evidence is needed to convince the police, case workers, judges, and juries that yes, the abuse happened, and yes, the abuser deserves to be charged.
Sheri Kurdakul took all of this into account when she created VictimsVoice, an app that "records incidences of abuse in a way that's safe, secure, and legally admissible," A Mighty Girl explains. "'What did you have for lunch 10 days ago? What was the weather like? Can you remember without looking at your calendar?" Kurdakul asks. "If you cannot recall this, then how is a victim supposed to remember something that happened when they are trying to stay safe, protect their kids and pets — months, even years in the past? That's the problem we solve."
But VictimsVoice not just a recording app. Kurdakul knew she needed to do more, so she worked with attorneys and law enforcement to ensure that the app helps victims gather the exact information they'd need — legally admissible proof — to be used in court.
One of the first things you'll see if you visit victimsvoice.app is this: "WE ARE NOT a reporting app nor are we mandatory reporters. YOU own your license. YOU control all access and information. Only you." Kurdakul wants those who use this app to know, from the get-go, that they are empowered and they are in control of the information saved here.
However, although the account owner controls their own access and info, the app does help them know what specific info to collect. For example, VictimsVoice ensures the person recording doesn't leave out important details. It asks about possible additional witnesses and "doctor visits with recorded injuries not reported," for example. "Victims don't always know what to document – we remove the guesswork," VictimsVoice.app explains.
Also, the app helps the victim keep all of their information in one safe and secure place. And, VictimsVoice helps collect evidence the victim may not even know they need — evidence for a potentially larger case. "In domestic violence cases, there are often other forms of abuse occurring in the home," the app website says. "We ask questions that can potentially uncover the opportunity to bring additional charges, such as animal abuse or weapons charges."
But what about if the abuser checks the victim's phone? Don't worry — VictimsVoice thought of that too. As A Mighty Girl explains, "The app asks a series of open-ended questions about each incident, and allows users to upload photos of injuries, as well as rape kit or physical exam details. Then, all of the data is encrypted and stored off-device, so that even if the abuser damages or takes a victim's phone, the information is safe. The website includes a Safety Exit button which ensures that the site doesn't remain in the browser history. And since users can't modify entries after recording them, the app meets strict US legal standards, allowing the information to be used in court."
However, even though there's a "safety exit" button, users should access VictimsVoice through an incognito screen on their computer or phone as an extra protective measure so their abuser doesn't find it.
So how can someone use VictimsVoice? They need to purchase a license — $40 annually — but if paying for it is not feasible, VictimsVoice has a "What if I can't afford a license?" option too that a potential user can click, where they can be linked up with a donor who will help. Also, the site offers a gift card option, allowing people to fund a VictimsVoice license for someone else in need.
VictimsVoice is not a downloadable app from the app store and can only be accessed through VictimsVoice.app. Once information has been inputted, it can be accessed from any computer or device and is not stored on the user's phone. All the user needs to do is log in.
No one should have to use an app to record details of abuse. This technology should not be needed. But the reality is, domestic violence — largely against women — has been on the rise during the COVID-19 pandemic, and this app could save lives. It could put abusers away into prison and allow their victims to finally have the peace and freedom they deserve — peace and freedom they may not see otherwise.
A Mighty Girl reports that VictimsVoice is being used in all 50 states just year after its launch, and evidence gathered through the app has already been used as "legally admissible evidence in multiple court cases." Sadly, the company has reported a "sharp uptick" in usage since COVID-19 hit, with "over thirty states experiencing double-digit percentage increases in March and April compared to [last] January and February." And, the article adds, "One state, Utah, experienced a 450% increase in activity during this period."
450%. Let that sink in for a moment.
The New England Journal of Medicine reports that several factors — including quarantine mandates that removed "safe haven" options, economic challenges due to job loss, and lack of safe childcare are some of the primary reasons the pandemic has led to increase in intimate partner violence.
Also, many times victims don't actively report their abuse, but it is found about through a hospital visit or even a routine doctor's appointment, and that's where the victim receives help. During the pandemic, however, those in-person visits aren't happening nearly as much.
"Medical offices can be safe places for patients to disclose abuse," The New England Journal of Medicine explains. "Physical examination findings; a patient's behavior during or while discussing physically intimate components of a breast, pelvic, or rectal examination; or an aggressive partner can be warnings signs of possible IPV. In settings such as emergency departments and labor and delivery suites, policies mandate screening for IPV when patients are alone. Evaluation in a clinic or hospital setting permits immediate intervention, including involvement of social workers, safety planning, and a review of services available to victims and their dependents."
However, as it has with everything else, the pandemic has negatively impacted the ability for medical professionals to take these protective measures.
The New England Journal of Medicine goes on to say that these opportunities have "often been absent in the Covid-19 era. As offices canceled and rescheduled non-urgent clinic visits and moved to telemedicine platforms, safely screening patients for IPV became more difficult. Not only might patients live in areas with unreliable Internet or cellular service, but abusers might be listening in on conversations, leaving patients unable to disclose escalating abuse at home."
Domestic violence and abuse isn't new, but modern technology is. And thankfully, Sheri Kurdakul, who knows all too well how it feels to be trapped with an abuser, was able to use that technology to help other victims like her.
Abuse victims are trapped inside their homes more than ever because of this pandemic, and they need help. VictimsVoice can be the way out.
This article was originally published on