Group FaceTime Is Now A Thing, So Gather 32 Of Your Closest Friends
by Julie Scagell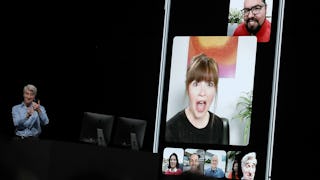 Image via Justin Sullivan/Getty Images
Apple announces new group FaceTime feature
It's amazing to think that thanks to technology, the current generation won't know what it's like to not see someone when they talk to them on the phone. But things just got a whole lot more interesting because Apple announced today they'll be supporting group FaceTime calls with their iOS12 launch (said loudly above the screams of 1 million collective teenagers).
The announcement was made at this year's WWDC event in San Jose where the tech giant said it will be updating its FaceTime video calling feature, which will be available for download by anyone who owns an iPhone 5s or newer. Based on previous releases, it will likely be available in September.
The updated functionality lets you call up to 32 people at a time, according to The Next Web and will be available on the iPhone, iPad, and Mac. They also announced that FaceTime is being integrated into iMessage, which means you can initiate a call directly from a text message convo, which now includes group FaceTime.
People are understandably feeling like this is the best Monday they've had in awhile and are furiously looking for new friends to add to their repertoire:
But wait, there's more.
Apple will also allow group FaceTime to include the Memoji and Animoji filters. For those unfamiliar with Memoji, basically it allows you to create a custom Animoji that looks just like you, where previously you could just be a unicorn or puppy or some shit. The company did say they're adding four new Animoji's to their iOS 12 lineup as well, which includes a koala, tiger, ghost, and T. Rex (squeal).
It's worth noting that there's nothing that screams you married the right person more than having your spouse read you the grocery list you forgot on the kitchen counter in "unicorn."
Apple demoed the new group FaceTime during the conference and it was met with wild applause. It shows the tiles of everyone in the conversation and below that, a list of participants. If you're worried how you can keep track of what's going on and concentrate on as many as 32 people involved in one conversation, Apple's got you covered. The person speaking will get larger automatically, so you'll never lose track of who's talking.
What's even more fun (because who has 32 people they actually like enough to FaceTime with), Apple also included a way to manually select only the people you want to see highlighted in the tiles, so you can low-key snub the people whose faces fill you with rage, without them ever knowing. Score.
With iOS12, when you initiate the FaceTime call, participants can come and go as they like dropping in and out of the conversation; like old-school "party lines" but fancier.
Skype and Google Hangouts — your move.