Insurmountable Medical Bills Are A Slap In The Face To Families With Sick Children
by Megan Zander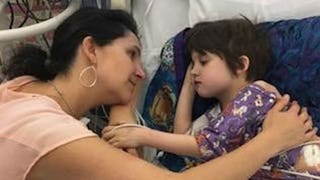 Image via YouCaring
She wanted to continue her fight closer to home
Arden Jane Bogroff is a fighter. She was born with a congenital heart defect called Hypoplastic Left Heart Syndrome (HLHS), meaning the left side of the heart doesn't pump blood as effectively as it should. At only seven years old, she's been through more doctor visits and hospital stays than most people see in a lifetime. But now Arden's fallen very, very ill. And thanks to our healthcare system, her family had to make the difficult decision between burying themselves in debt or allowing her to possibly end her days out of state, away from family and friends.
According to a YouCaring page set up on behalf of the family, Arden's big battle began early last month. Her parents noticed she wasn't doing well and took her to OHSU Dornbecher Children's Hospital ER in Oregon. She was admitted to the ICU. Ten days later, she was airlifted to Lucile Packard Children's Hospital at Stanford in California.
Within a week her condition worsened further and she was admitted into the Stanford ICU. Due to her nutrition and lack of strength, her parents were told she was no longer eligible for a heart transplant evaluation. In an update on June 8th, her mother spoke candidly about her condition and the drastic change it took once in the Stanford ICU. "Arden had three different infections, her kidneys had stopped working," she writes. "Nurses were crying and stopping by giving us hugs and we were given hours left with her. Since then Arden has not been able to fully recover apart from God sustaining her. Doctors have informed us that Arden is on the highest level of medical intervention and she is no longer responding how they hoped."
Her parents were already missing time from work to be with her, as well as trying to pay bills and provide for their other children. Additionally there was the price of gas and new tires for the multiple drives to and from Oregon to California.
Arden, along with her family, wanted to come back to OHSU in Oregon and receive her comfort care there. They wanted to be close to friends and family. Going back also allowed Arden the potential to receive her comfort care at home, if she gets well enough for her doctors to allow it. Her parents did what they had to do to get their little girl back near home. But although the care she would be receiving is the same at either hospital, the cost of transferring Arden was completely out of pocket — adding approximately $65,000 to their already growing pile of medical expenses.
According to the U.S. Census, the median household income in 2015 was $55,775. Bringing Arden back to her hometown hospital cost more than most U.S. families make in a year. Yes, doctors and medical treatments are expensive. But the emotional pain of seeing your child go through something like this is difficult enough as is. A family shouldn't have to worry about insurmountable medical expenses in addition to having to care for a very sick child. We live in a country where winning the lotto and/or the kindness of strangers are the only way to pay off medical bills from a serious illness, and that's including people who are fortunate enough to have health insurance.
Coming home bolstered the family's spirits as they saw the entire community is rooting for their girl. "Jimmy (dad) and siblings arrived safe back home early this morning," the family said in an update on June 10th. "They felt incredibly blessed as they drove into their neighborhood to see all of the trees tied with pink ribbons."
For now the family is focused on trying to get Arden well enough to be discharged to her own home for comfort care and relying on their faith in hopes that she beats the odds. In an update on Tuesday her father shared how he was listening to worship music with his daughter while in the hospital. "… she asked me what a miracle is," he writes. "I explained that a miracle is when God does something that is not possible for man to do himself. She said, 'Like my heart?' And I said, 'Exactly that.'"
A YouCaring page has been set up for the family.
This article was originally published on