Aretha Franklin 'Queen of Soul' Dies At 76
by Valerie Williams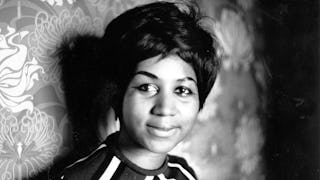 Image via Express Newspapers/Getty Images
Aretha Franklin dies after health struggles including a battle with pancreatic cancer
Aretha Franklin, undisputed Queen of Soul, has died at the age of 76 after a mostly private battle with pancreatic cancer. In recent days, there were reports of her entering hospice due to her failing health and now, the world is mourning the loss of an icon.
Born in Memphis, Franklin began her career singing gospel music at New Bethel Baptist Church in Detroit where her father was a minister. At 18 years old, she embarked on a soul-singing career beginning with a Columbia Records deal but signed with Atlantic in 1967. It was then that the hits began to roll in — "Respect","(You Make Me Feel Like) A Natural Woman", "Spanish Harlem" and "Think." As the 1960s drew to a close, she was already known as the Queen of Soul.
Over the course of her storied career, Franklin recorded 112 charted Billboard singles and several acclaimed albums including I Never Loved a Man the Way I Love You, Lady Soul, Young, Gifted and Black, and Amazing Grace. She won a total of 18 Grammy awards and has sold over 75 million records worldwide.
Her family has released a statement thanking Franklin's many fans. "We have been deeply touched by the incredible outpouring of love and support we have received from close friends, supporters and fans all around the world. Thank you for your compassion and prayers"
The woman is a legend in her own time and the world is grieving and remembering her accordingly.
Even former president Barack Obama spoke in praise of Franklin and what she meant to the world. "Through her compositions and unmatched musicianship, Aretha helped define the American experience. In her voice, we could feel our history, all of it and in every shade—our power and our pain, our darkness and our light, our quest for redemption and our hard-won respect. She helped us feel more connected to each other, more hopeful, more human. And sometimes she helped us just forget about everything else and dance."
It's important to note that Franklin's presence and influence extended far beyond her staggering musical talents. She was a change agent in the civil rights movement from the time of Martin Luther King, Jr., who was a friend of her father's. She was also the first woman to be inducted in the Rock and Roll Hall of Fame. During a 2016 interview with Franklin, Elle noted that the songstress had it written into her contract in the 1960s that she would never perform for a segregated audience. She told the magazine she was thrilled that "Respect" became an anthem for both the feminist and civil rights movements. She explained that the line "you know I've got it" is all about feminism.
"As women, we do have it," she says. "We have the power. We are very resourceful. Women absolutely deserve respect. I think women and children and older people are the three least-respected groups in our society."
This article was originally published on