Ariana Grande Opens Up About Her Anxiety Following Manchester Bombing
by Thea Glassman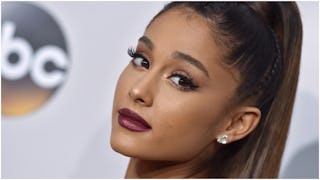 Image via Axelle/Bauer-Griffin/Getty
Ariana Grande got candid about the painful months following the Manchester bombing
Last May, a terrorist set off a bomb at an Ariana Grande concert in Manchester, killing 22 people and sending 59 others to the hospital. The singer opened up about the tragedy during a recent interview with ELLE and spoke candidly about the intense physical anxiety she experienced in the aftermath. She also shared some really powerful words about finding hope amongst all the trauma.
When Grande first returned home from tour, she started dealing with "wild dizzy spells," which left her feeling like she couldn't breathe.
"I would be in a good mood, fine and happy, and they would hit me out of nowhere," she recalled. "I've always had anxiety, but it had never been physical before. There were a couple of months straight where I felt so upside down."
Her mom, Joan Grande, also opened up about the trauma she experienced during the bombing, and the anxiety she dealt with in the days, weeks, and months after.
"The bomb went off, and I'm looking at these young adults with fear in their eyes." she said. "…I didn't know where I was going. I just knew I was going to my daughter. Not to be overly dramatic — I struggle with this every day — but I didn't know what I would find when I got to her. I sympathize with every parent who was waiting for a child. Those minutes when you don't know what's happening…there are no words."
The singer returned to the U.S. right after the tragedy, and couldn't stop crying for two days straight. She didn't speak much either. Then, she came to her mom with an idea.
"It was two or three in the morning; she crawled into bed and said, 'Mom, let's be honest, I'm never not going to sing again. But I'm not going to sing again until I sing in Manchester first,'" Grande recalled.
And that's how One Love Manchester was born. Grande held a benefit concert that raised $23 million for the We Love Manchester Emergency Fund, a charity that helped victims and survivors of the attack. If you haven't seen videos from the event, it's definitely worth watching. Grande — accompanied by a whole slew of big name artists — took to the stage in Manchester and performed in front of 50,000 fans.
Their message was one of hope, strength, and resilience — and the footage will actually make you believe in humanity again.
Grande also visited survivors at the hospital and there was lots and lots of love going around.
The singer told ELLE that getting back onstage can be "terrifying" sometimes, but her fans make her feel a lot more brave.
"It's the most inspiring thing in the world that these kids pack the venue," she said. "Why would I second-guess getting on a fucking stage and being there for them? That city, and their response? That changed my life."