Ariana Grande And Cynthia Erivo Will Star In The Movie Adaptation Of 'Wicked'
by Christina Marfice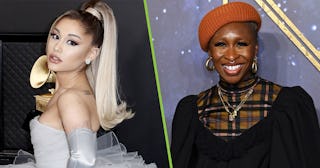 ETIENNE LAURENT/EPA-EFE/David Fisher/Shutterstock
After months of speculation about who will lead the cast in the movie adaptation of Wicked, Ariana Grande and Cynthia Erivo have the roles
Ever since it was announced that Jon M. Chu, the director who brought us In the Heights, would be tackling a film adaptation of the smash hit musical Wicked as his next project, there's been one big question: Who will star? After months of speculation, we finally have the answer. Ariana Granda will play Glinda, and Cynthia Erivo will play Elphaba. Just when we thought we couldn't possibly be more excited for this movie to happen.
The two stars announced their casting in Instagram posts last night.
Grande's post shows her breaking down in front of her laptop, presumably right after she received the news. She also shared a shot of a pink-and-green floral arrangement (the two signature colors of Glinda and Elphaba, the witches in the story) with a card reading, "Pink goes good with green. Congratulations, Miss A. The part was made for you. I look forward to sharing this musical journey with you. Love, Cynthia."
Erivo's post is almost the same: the first slide shows the star breaking down upon receiving the news, and if you scroll through, you can see her pink-and-green bouquet with a note that reads, "Dear Cynthia, Honored doesn't even begin to cover it. I cannot wait to hug you. See you in Oz. All my love, Ari."
I'm going to pause here to just allow you a moment to imagine these two singing "For Good" together. Do you have goosebumps? Good. Let's move on.
Honestly, this casting is perfect. These are two unbelievably talented stars who have achieved great things. Grande is a multi-Grammy winner who acted in shows like Victorious after getting her start in Broadway's "13." And what is there even to say about Cynthia Erivo? She's almost an EGOT winner — she nabbed an Emmy, Grammy, and Tony award for her role as Celie in the 2015-2017 revival of "The Color Purple." Will this role get her the Oscar she deserves? Everyone's thinking about it.
Wicked is a prequel to The Wizard of Oz that tells the story of Elphaba, the fiery and misunderstood green-skinned witch who would one day become the Wicked Witch of the West — and Glinda the Good Witch, her somewhat-frenemy. The story takes place right up until Dorothy's arrival in the land of Oz. Wicked has been one of the longest-running and most beloved shows in the history of Broadway.
And just in case you're not already excited, we'll leave you with this: Ariana Grande singing "The Wizard and I." See you in Oz.