Ariana Grande Is Giving Away $1 Million In Free Therapy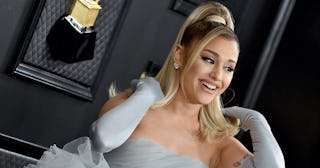 Axelle/Bauer-Griffin/FilmMagic
Pop star Ariana Grande is partnering with BetterHelp to help fans get free therapy
Ariana Grande has been outspoken about how beneficial therapy has been for her, and now she's helping fans get connected to the same kind of mental health support. The singer announced on Instagram that she's partnering with therapy app BetterHelp to give away a million dollars worth of therapy services.
"While acknowledging that therapy should not be for a privileged few but something everyone has access to, and acknowledging that this doesn't fix that issue in the long run, I really wanted to do this anyway in hopes of inspiring you to dip a toe in, to feel okay asking for help, and to hopefully rid your minds of any sort of self judgment in doing so!" she wrote.
Fans interested in taking advantage of the offer can go to betterhelp.com/ariana. They'll then be matched with a licensed therapist for one free month. Once the free month ends, you can choose whether to renew and continue.
"I so hope that this will be a helpful starting point and that you'll be able to build space for this in your lives and continue! Healing is not linear or easy but you are worth the effort and time, I promise!" Grande said.
The singer is a fitting spokesperson for therapy and healing, given what she's experienced herself over the last few years. In 2017, a suicide bomber targeted her concert in Manchester, England, killing nearly two dozen people and injuring hundreds of young fans. Grande herself may not have been physically injured in the attack, but she was diagnosed with post-traumatic stress disorder.
The following year, Grande was left devastated when friend and former boyfriend Mac Miller died of a drug overdose. Just a few months later, she shared with fans that she was in therapy and that it was hugely important to her.
"Therapy has saved my life so many times," she tweeted. "If you're afraid to ask for help, don't be. u don't have to be in constant pain & u can process trauma. I've got a lot of work to do but it's a start to even be aware that it's possible."
As Grande acknowledged in her announcement, however, therapy doesn't come cheap. Sessions can cost hundreds of dollars, and about half of providers reportedly don't even accept insurance (assuming the patient even has coverage). That means the gap between who needs or wants therapy, and who can actually get it, is a big one. Grande's partnership won't be able to fix the problem, but it could be a life-saver for those who are able to take advantage.
This article was originally published on