Ariana And Kim K Speak Out After Model Shares Screenshots From Predatory Photographer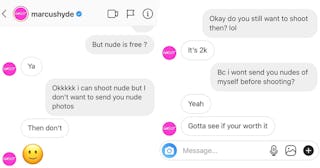 Sunnaya/Twitter
Reports are piling in about this famous celebrity photographer allegedly abusing young models
Earlier this week, LA model and student Sunnaya Nash posted an Instagram message exchange to social media. The exchange was between her and celebrity photographer Marcus Hyde, a favorite of famous folks like Ariana Grande and Kim Kardashian. And it was eye-opening and very, very gross.
Sunnaya was responding to a call Hyde put on Instagram asking for models to shoot with him. In his stories, he wrote "Who wants to shoot," over a photo of a nude model in a shower. Sunnaya, who has told media outlets she had long been a fan of his work, jumped at the chance.
In the exchange, Hyde agreed to shoot with Sunnaya, but told her she'd have to pay him $2,000 for the privilege — unless she sent him nudes because, as he put it, "Gotta see if your worth it." I'm sorry, what?
Sunnaya later posted the follow-up messages he sent her after she refused, and then put his predatory behavior on blast. First, he told her, "Find someone else… I'll keep shooting celebs," and after she went public with his messages, he told her, "Suck a fat big dick."
Very classy.
Since then, other women have come forward with their own horror stories about working with this guy, including one model who says he sexually assaulted her during a shoot and then refused to share images with her because she wouldn't have sex with him, and another who says the photographer poured her more and more drinks until she was too drunk to fight him off when he raped her.
It is absolutely horrifying, heartbreaking, and infuriating what's coming to light about Hyde.
Since all these women started coming forward, both Grande and Kim Kardashian have released statements, both on their Instagram stories.
But both their responses miss the mark. Kardashian makes a point to say that she's only ever had positive experiences with Hyde, a response that invalidates other women's stories even though she goes on to say she stands with the women who are speaking out. And Grande's response is to tell women not to shoot with photographers that make them uncomfortable, putting the onus on women not to get harassed or assaulted. Neither Grande nor Kardashian said anywhere in their statements that they won't continue to work with Hyde.
In the #MeToo era, we need people with influence like Grande and Kardashian to lead the charge to cancel people like Hyde. There's no reason he should still be working, and we can only hope that celebrities will, in fact, stop working with him and put him out of the job he uses to target and victimize women.