Blaming Ariana Grande For Mac Miller's Death Is Misogyny, And It's Unacceptable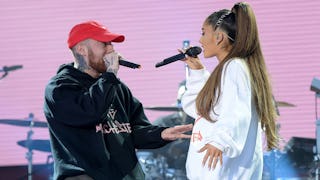 Image via Kevin Mazur/One Love Manchester/Getty Images for One Love Manchester
Ariana Grande is in no way responsible for Mac Miller's death, so stop blaming her
Mac Miller, 26-year-old rapper and Pittsburgh native, died of an apparent overdose on Friday. His death is a heartbreaking tragedy. His death is not, in any way, something his ex-girlfriend, Ariana Grande, should be blamed for. Unfortunately, she's been on the receiving end of many pointed fingers and online harassment ever since the news of his death broke.
Miller and Grande dated for almost two years before officially breaking up earlier this spring. After the breakup, Grande began dating SNL's Pete Davidson — as everyone with internet access knows. After the breakup, Mac Miller fans blamed Grande because she moved on to Davidson. She was accused of "abandoning" Miller, who was open about his struggles with addiction, in his time of need after the rapper's DUI in May.
If you weren't already aware that a statement like that is complete and utter bullshit, let Ariana Grande herself explain to you that it is not the job of any woman or partner to endure or "fix" a toxic person and relationship.
"I am not a babysitter or a mother and no woman should feel like they need to be," she wrote at the time. "I have cared for him and tried to support his sobriety (and always will of course) but shaming/blaming women for a man's inability to keep his shit together is a very major problem."
Since the news of his death broke, Grande has had to shut off her Instagram comments due to harassment and accusations hurling her way via trolls:
Let's get a couple of things straight here. One, Mac Miller was an adult. He was responsible for himself, his decisions, and his life. He was also incredibly accomplished at a young age, super talented, and should be remembered for those things — as well as his big heart. Not for being Ariana Grande's "ex" and most definitely not for being her project or responsibility.
Thankfully, plenty of people are offering similar thoughts and support.
Implying Ariana Grande worthy of harassment because she broke up with Miller and moved on with her life is an incredibly dangerous narrative to spread. It just continues the misogynistic notion that women should feel responsible for their partner's self-destructive behavior, or that they're a "failure" for not being able to "fix" a man.
If she felt their relationship was toxic, she did the right thing in leaving it. That in no way diminishes what they had together or her feelings about him. She's grieving. The world lost a young, talented presence due to the heartbreaking tragedy of addiction. Let's make the story about that, please.