Ariana Grande And Pete Davidson Are Engaged After Only A Few Weeks Of Dating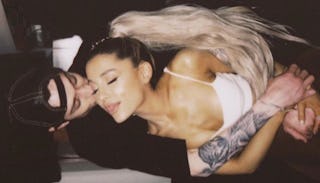 Image via Instagram/Ariana Grande
Ariana Grande and Pete Davidson are officially engaged
Ariana Grande and Pete Davidson just got engaged and if you've been following their whole whirlwind romance (no judgement) then you'll know that this is, in fact, a very big deal. The couple have only been dating for a few short weeks but PEOPLE reports that the two are deeply in love and ready to take the big leap. Fingers firmly crossed that we get a wedding-themed club banger from Grande ASAP.
So, how did this all happen? And wasn't Grande dating Mac Miller and Davidson dating Cazzie David, like, an eye blink ago? Here's what we know so far. Grande, 24, reportedly broke up with Miller in May. Davidson, 24, announced that he broke up with David in May as well.
Then, the Instagram photos started. Davidson posted the below picture with Grande and I think we can all wholeheartedly support any date that involves Hogwarts robes.
https://www.instagram.com/p/BjaMCELnB9G/?utm_source=ig_embed
Then came even more extremely couple-y pictures.
https://www.instagram.com/p/BjwdSkZHpfC/?taken-by=petedavidson
Then *BOOM.* The couple apparently got engaged. "They're just two people who found love quickly and make each other happy all the time," a source told PEOPLE. "They both started talking about it this past weekend. It's nothing they've been hiding."
Neither Grande nor Davidson have commented on their supposed engagement BUT Grande did post a whole bunch of loving messages to her fans so take that as you will.
Also, if you do some very quick math you might have already figured out that Grande and Davidson have probably only been dating for a total of three weeks.
Don't worry. The rest of the internet is just as baffled as you are.
Ahhhh, young love. Not trying to imply that I don't have a life, but I will be following every step of this budding relationship.