Ariana Grande Shares Jarring Scan Of What PTSD Did To Her Brain
by Thea Glassman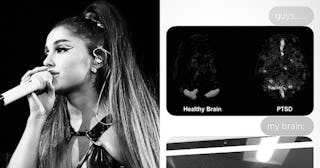 Image via Kevin Mazur/Getty and Ariana Grande via Instagram
Ariana Grande shared a scan of her brain, which shows the powerful effect of PTSD
In 2017, a man entered an Ariana Grande concert in Manchester, England and let off a bomb that killed twenty-two people. That completely horrifying, gut-wrenching attack has had a lasting effect on Grande's mental health. The singer took to Instagram to share a picture of her brain scan and a healthy brain scan, to show a visual representation of her post traumatic stress disorder (PTSD).
Grande posted the snapshot on her Instagram story, alongside the caption: "hilarious and terrifying." It showed side-by-side pictures of a healthy brain and a brain with PTSD, which had several lit up sections. The singer also shared a scan of her own brain which, much like the PTSD version, was lit up in several sections.
PTSD effects about 10% of women and 4% of men, according to Psychology Today and comes with a lot of scary, difficult symptoms. The condition can force people to relive the traumatic moments that caused it, have upsetting thoughts and emotional reactions, experience hypervigilance, and has an overall disruptive effect on day-to-day life.
In an interview with British Vogue, Grande opened up about her experience with PTSD. "It's hard to talk about because so many people have suffered such severe, tremendous loss. But, yeah, it's a real thing," she said. "I know those families and my fans, and everyone there experienced a tremendous amount of it as well. Time is the biggest thing. I feel like I shouldn't even be talking about my own experience – like I shouldn't even say anything. I don't think I'll ever know how to talk about it and not cry."
Grande also opened up to the magazine about her ongoing struggle with anxiety, with a refreshing amount of candor. "I think a lot of people have anxiety, especially right now," she said. "My anxiety has anxiety… I've always had anxiety. I've never really spoken about it because I thought everyone had it, but when I got home from tour it was the most severe I think it's ever been."
The singer has kept it very real with her fans and doesn't shy away from lifting the magical, mystical celebrity curtain. In 2017, she took to Instagram stories to share that she almost skipped performing at NBC's Very Wicked Halloween special, a celebration of the musical's 15th anniversary.
"Can't believe i almost let my anxiety ruin this for me today!!!" Grande wrote. "not today satan ! not tomorrow or the next day either … finna sing my heart out and be a big walking vessel of love bye."
And, damnit, did she perform. It was a good, good night (hi Idina Menzel).
All the applause and love to Grande, who is dealing with a whole lot of trauma and still sharing her story with the world. Many, many people will be able to relate.