Ariana Grande Got Very Real About How Therapy 'Saved Her Life'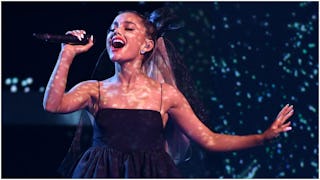 Image via Ethan Miller/Getty
Ariana Grande had a powerful message about therapy and mental health
There's nothing better than openness and honesty when it comes to mental health – and Ariana Grande just got really transparent about her own. The singer took to Twitter to explain that therapy "saved her life" and encouraged others to ask for help when they need it. Yes, yes, yes to all that.
The conversation started when a fan quipped that she wanted to know if Grande's therapist was "accepting new clients" (listen to the singer's very zen break-up song "Thank u, next" and you'll probably get why). Grande took the comment to heart and wrote back a very candid, thoughtful response.
"In all honesty therapy has saved my life so many times," she tweeted. "If you're afraid to ask for help, don't be. u don't have to be in constant pain & u can process trauma. i've got a lot of work to do but it's a start to even be aware that it's possible."
Her tweet earned a staggering 542,000 likes and thousands of people weighed in on the importance of her message.
Okay, can we please have way, way more moments like this on Twitter? It makes up for the rest of the awful trash fire on there.
Grande joined the ranks of the many celebrities who have spoken out about their mental health struggles. In an interview with InStyle last year, Jon Hamm got candid about the important role that therapy has played in his life.
"Medical attention is medical attention whether it's for your elbow or for your teeth or for your brain. And it's important." he explained. "We live in a world where to admit anything negative about yourself is seen as a weakness, when it's actually a strength. It's not a weak move to say, 'I need help.'"
And Demi Lovato chimed in during a conversation with The Huffington Post, explaining that there's still a big stigma around asking for help.
"The biggest surprise for me is how many people are afraid to talk about mental health," she said. "Therapy is something everyone should try. I think that whether you have a mental health condition or not it's good to talk to somebody ― especially someone who is a licensed professional."
Lovato, Grande, and Hamm are certainly not the only ones. Over 44 million people in American adults have a mental health condition, according to Mental Health America, and 9 million adults reported that they're dealing with issues that haven't been addressed yet.
All the applause to everyone who has so bravely spoken out about their mental health struggles. It makes the rest of us feel a lot less alone.