Ariana Grande Makes Surprise Visit To Girl Injured In Manchester Attacks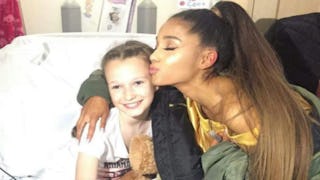 Image via Jaden Farrell Mann/Twitter
The 10-year-old shares photos of her surprise visit with Ariana Grande in the hospital
When you're a young girl, there's nothing more magical than meeting your idol. When you're a young girl injured in a horrific terrorist attack, that moment might be more than magic: it's hope. Ariana Grande is giving hope and heart to her fans in need right now.
The singer has returned to Manchester less than two after the attacks at her concert to surprise fans recovering from their injuries at the Royal Manchester Children's Hospital.
One young girl, 10-year-old Jaden Farrell Mann, posted the sweetest photos on Twitter gushing, "I met my queen today, love you Ariana Grande."
The young girl from Denton was hurt badly in the Manchester Arena attacks, suffering fractures to both her legs and shrapnel wounds, according to Manchester Evening News. She's undergone two operations.
"Jaden was just sat there watching TV and she walked in. She was absolutely amazed! It was a complete surprise," Jaden's mother says.
Grande also visited other injured fans in the hospital as they were getting tucked into bed. She brought goodies like flowers, teddy bears, and signed T-shirts for the young fans.
Another mother, Lauren Thorpe, tells CNN her eight-year-old daughter Lily was so happy to get the visit.
"Lily's face lit up and Ariana was amazing with her," Thorpe shares. "She knelt by her and sat on her bed with her and told her 'I'm so proud of you, you are so strong and doing really well'."
The young girl suffered a shrapnel wound in her back and is currently recovering from surgery. Lily's mother says her visit was a much-needed respite.
On May 22nd, a suicide bomber carried out an attack at the Manchester Arena in Manchester, England following Grande's concert for her Dangerous Woman tour. According to CNN, 22 people died, mostly children, and 60 people were injured, some critically.
Grande's return to the city is to brighten spirits, but she's also there to raise money. After canceling her upcoming shows in London and Switzerland, she organized a star-studded tribute concert in Manchester for the victims. In the lineup; Justin Bieber, Coldplay, Katy Perry, Miley Cyrus, Pharrell, Black Eyed Peas and many others. All proceeds from the June 4th concert will go toward the "We Love Manchester Emergency Fund," in partnership with the British Red Cross and the Manchester City Council.
Shortly after the attacks, Grande penned a powerful essay to her fans.
"I don't want to go the rest of the year without being able to see and hold and uplift my fans, the same way they continue to uplift me," Ariana shared on social media. "Our response to this violence must be to come closer together, to help each other, to love more, to sing louder and to live more kindly and generously than we did before."
"I'll be returning to the incredibly brave city of Manchester to spend time with my fans and to have a benefit concert in honor of and to raise money for the victims and their families," she added.
"Music is something that everyone on Earth can share. Music is meant to heal us, to bring us together, to make us happy. So that is what it will continue to do for us," Grande promised her fans. "We will continue in honor of the ones we lost, their loved ones, my fans, and all affected by this tragedy. They will be on my mind and in my heart every day and I will think of them with everything I do for the rest of my life."
This article was originally published on